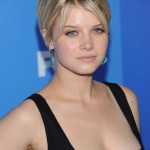 I finally got to see the much hyped "Alcatraz," the new thriller from J.J. Abrams (LOST, Star Trek)  and the folks at Bad Robot.
All I can say is 'Wow."  Team Robot has another suspenseful, creepy, thriller on their hands. It has elements of Fringe (a mysterious government agency) hunting down the last remaining prisoners (and their guards) 302 in total, from Alcatraz, who instead of being transferred out in 1963 as the people have been led to believe, all disappeared.  Deaths were faked.  Sound familiar LOST fans?
Not unlike "Fringe," we have a good-looking female cop, whose partner gets killed in the first episode. Detective Rebecca Madsen is played by Sarah Jones (Big Love, Sons of Anarchy.) Her investigation of the murder of a Alcatraz' assistant warden leads her to the enigmatic Emerson Hauser, who runs another of those hush, hush secret government agencies. Maybe that's where all our tax dollars are disappearing, but I digress.  Sam Neill is Hauser, who it turns out was one of the two officers who first noticed something went wrong in 1963, and has apparently been chasing this mystery for almost half a decade.  Hauser is assisted by Lucy Banerjee (Parminder Nagra – 'ER' and 'Bend it Like Beckham') who has her own interesting back story.
Before joining this group, which I don't even know if they have a name, Det. Madsen enlists the aid of former LOST member Jorge Garcia, as Diego Soto, comic book mogul and author of four books on the notorious prison.
Our series it seems, will be spent chasing the former inmates, who show up in the present day, some with an agenda that has yet to be figured out, as the first criminal in the pilot, Jack Sylvane, in addition to offing the deputy warden, kills some doctor after forcing him to turn over a mysterious key from his home safe.  Never mind he didn't touch all the cash.  But he seems to have received some subconscious instructions to retrieve this object.  Other cases have been given things like credit cards and money.
We have no clue who is bringing these baddies back, why they're here, and where they've been for fifty years.
I like it.  I'll keep watching.
I haven't seen "Touch" yet, the other FOX show they've been hyping all last weekend during the football games, starring Keifer Southerland.  It's on the DVR, but here"s a link to a review from TV Fanatic