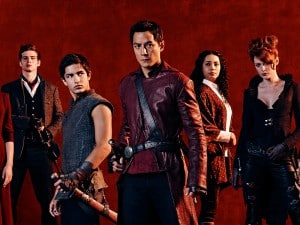 While everyone is putting out their top lists of the year in music and movies, the only category I feel qualified to opine about is the small screen.  Sure, I saw some good flicks like "Spotlight," "Ant Man," and like the rest of the known universe, "Star Wars."  But I spent a lot of time watching TV.  Some of the best Hollywood writing and acting is taking place on television.
So here are the shows that got my vote as the best of television for 2015:
Honorable Mention:  The Good Wife, 12 Monkeys, The Grinder.
10. You're The Worst (FXX) – A dramedy involving a self-absorbed writer, self-destructive PR exec, their friends and the toxic relationships revolving around this band of twenty-somethings.
9. Scorpion (CBS) – Drama series loosely based on computer expert Walter O'Brien, who hacked into NASA as a child, and as a grown up has cobbled together a band of high IQ misfits to solve complex crimes for Homeland Security, the FBI, and or/the CIA.  Most of the self-contained episodes involve McGyver-like solutions using the unique skill sets of his crew.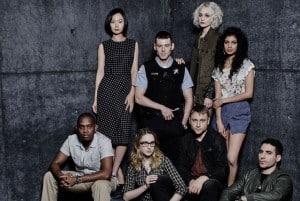 8. Sense8 (Netflix) – This incredible sci-fi drama was created by The Wachowskis (The Matrix, V for Vendetta). It is about eight complete strangers from around the world, whose lives are suddenly intertwined, becoming  sensates, otherwise normal humans who are mentally and emotionally connected and who are able to communicate, sense and use each other's knowledge, language and skills. While trying to live their lives and figure out how and why this connection has happened and what it means, they are aided by another sensate, Jonas (Naveen Andrews from LOST,) who is trying to protect them from "Whispers," another sensate, who is similarly empowered and is hunting them down by tapping into their psychic link. This show occurs simultaneously in eight locales around the world. It is visually stunning, thought provoking, and jaw dropping.  It explores a lot of subjects that do not ordinarily appear in science fiction.
7. Better Call Saul (AMC) – It is a prequel/spin-off of Breaking Bad, which is also produced by Bad creator Vince Gilligan. The show is set in 2002,  and follows the story of small-time Albuquerque lawyer James Morgan "Jimmy" McGill (Bob Odenkirk,) six years before his appearance on Breaking Bad as Saul Goodman. Jonathan Banks reprises his Breaking Bad role as Mike Ehrmantraut. Michael McKean stars as Jimmy's older brother Chuck, the main partner in a local law firm, who has had to take a leave of absence from Hamlin, Hamlin & McGill due to the sudden onset of "electromagnetic hypersensitivity." This story is character driven, and what a cast of characters!
6. Homeland (Showtime) –  the political/spy thriller continues to eerily parallel the real world in season five, as the scene shifts to Berlin. Our flawed heroine, Carrie Mathison (Claire Danes) is two years removed from the events in Afghanistan that took place in the last season.  Carrie is out of the CIA, and working for a charitable organization. However, events unfold that drag her right back into the world she so desperately wanted to escape from.
5. Quantico (ABC) – This thriller, told in flashbacks, is the story of several FBI recruits, one of whom is suspected of a terrorist bombing. As the protagonist attempts to prove her innocence, suspicion is cast among her fellow students at the FBI academy.  Although at times, it's comic that inexperienced agents can go about their duties as these characters do, it's the whole whodunit and WTF nature of the show that keeps viewers coming back for more.  Plus, the lady agents are easy on the eyes.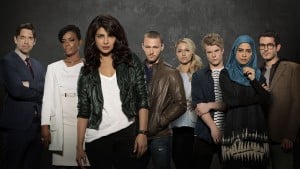 4. Fargo (FX) – This film noir/drama series is based on the Coen Brothers film of the same name.  The ten-episode second season stars Kirsten Dunst, Patrick Wilson, Jesse Plemons, Jean Smart, and Ted Danson. Murder, cover-up, mayhem, and crime families.  Outstanding cinematography.  Set in the 1970's. Need I say more.
3. Mr. Robot (USA) – This show had me hooked from the moment I saw the previews.  Never mind it became a critic's darling.  It was creepy, scary, thought-provoking, and bizarre.  On top of that, throw in some game changing reveals just before the season finale.  It needs to be watched at least twice to be truly appreciated.  Remi Malek continues to garner praise as cyber-security expert/hacker Elliot. There are lots of references that only computer geeks can appreciate, yet don't distract the overall experience.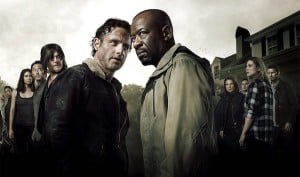 2. The Walking Dead (AMC) – No letup in sight for the survivors of the zombie apocalypse. The producers promised to ramp up the action in season six, if that was even possible, and true to their word, delivered on of the most intense seasons yet. The finale teased another character, Negan, from the comic series the show is based upon, that is going to be portrayed by Jefferey Dean Morgan.
1. Into The Badlands (AMC) – What's not to like about this one? Dystopian future, conflicted characters, evil barons, and martial arts.  Vengeance, tyranny, and revenge, all mixed with incredibly choreographed fight scenes and a fantasy story.  It had just six one-hour episodes.  Each was like a full Kung Fu movie. I can't wait for season two.