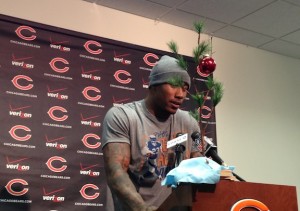 It's been quite some time since there was a player in a Bears uniform that made going to the weekly media sessions fun and entertaining.
Brandon Marshall has been outspoken, usually choosing his words carefully, but providing good fodder for the media.
Last week, he insinuated that there were players in the NFL using Viagara as a performance enhancing drug.
This week, in response to a question from this reporter about the NFL rivalries he has experienced, included a quote you will be hearing all week long.
I don't like the Green Bay Packers. I'm not gonna use the word 'hate,' but I really dislike the Green Bay Packers and their players.  – Brandon Marshall
His whole comment actually took him back to every rivalry he has been a part of, including his days in Pop Warner football, high school, college, as well as the Broncos-Chargers series.
Here is the entire answer in context, along with a follow up question from another writer.
[jwplayer mediaid="7070″]