Day One | Day Two | Day Three | Day Four/Five/Six
Day Two:
After a semblance of sleep, the effect of yesterday's gastric tidal wave a fading memory, I set off for the Rio in search of tournament glory.
The first hurdle was getting to the Rio, home of the WSOP. After trekking all the way to Bally's to catch the shuttle bus, I found out that the buses don't begin hauling poker wannabes like me until 10 AM. This was about 8:30, and I wanted to get my credentials and take a shot at the 9 o'clock mega-satellite. So I snagged a cab, and ten dollars later he deposited me at the poker entrance.
A lot has changed since I was last here at the 2007 WSOP. For one, gaming takes place in three separate rooms now. The Pavilion where the cash games, turbo satellites, and the deep stack daily tourneys take place. Over in the Brasilia Room, the first leg of the WSOP events take place. Today, there was a $1500 HORSE event beginning. As the field gets whittled down, they move across the hall to the Amazon Room for subsequent days on these multi-day events.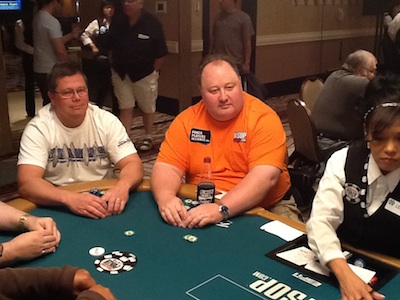 I caught up with Greg "Fossilman" Raymer, winner of the 2004 Main Event. He was kind enough to chat with me for a few minutes about some of his favorite games in the HORSE event, a rotating, mixed game of Hold 'Em, Omaha, Razz, and Stud poker. He went on to explain some of his stud strategy and why he likes that game. Raymer then excused himself to go take his seat. I followed up a few hours later, but he apparently had no luck, and was gone.
In the aforementioned Amazon room, there was a Six-Handed No Limit event that was down to three tables, and included pro Freddy Deeb. Deeb has two WSOP bracelets, including one in the $50,000 HORSE event which netted him over two million dollars. On the other side of the room the Omaha Hi-Lo event was down to sixteen players. There were some notable names there as well including Phil Ivey, Mike Matusow, and the always affable Scotty Nguyen.
But those guys all fared better than I did. In my first foray, that early morning turbo mega satellite, I chipped up when my Q-9 bested a Q-K. At our table it seemed that nine was a lucky number, which is why I pushed against a better hand. What goes around comes when not long after that, I looked at my cards to see pocket aces. One player went all in and I called. He flipped over pocket nines. That is usually a good thing, until the flop came 9-Q-9 for flopped quads. That crippled me, and I never recovered.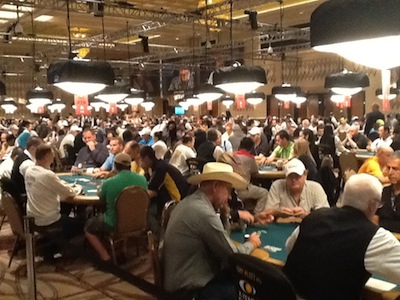 The next attempt was in a single table event with one thousand in starting chips and blind levels increasing every ten minutes. You have to chip up fast. The cards didn't show up until I got a Q-K, which I raised, and got called down with a Q-9, who caught a straight on the river to end that foray. There's that pesky nine again!
Lastly, I took a shot at the 6 PM deep stack. Nice setup – 10,000 in chips and 30-minute levels. There were 311 entrants, and I made it through half the field before the blinds started to get expensive, and I saw two two face cards, so I pushed my last 4700 chips into the middle and got called by guess what? 9-9. The board had nothing but little cards so out I went after four hours of maybe playing five or six hands. The only two winners were a pair of Kings and an A-10 that I semi bluffed with. I had so many 8-3, 7-4, 9-2's, that I seriously considered switching to blackjack.
So I left the Rio with my tail between my legs and didn't even bother to watch any of the other action still unfolding in the big buy-in events.
Tomorrow is another day.