Winter Tour to kicks off January 11th in Jacksonville.
Greensky Bluegrass is a five-piece American bluegrass jam band founded in Kalamazoo, Michigan. The band has evolved over the years, growing from 3 to 5 members, adding electric effects, and touring with a full light show. Greensky Bluegrass are widely known for their thoughtful lyricism, edgy and genre-expansive sound, dazzling live performances and relentless touring schedule.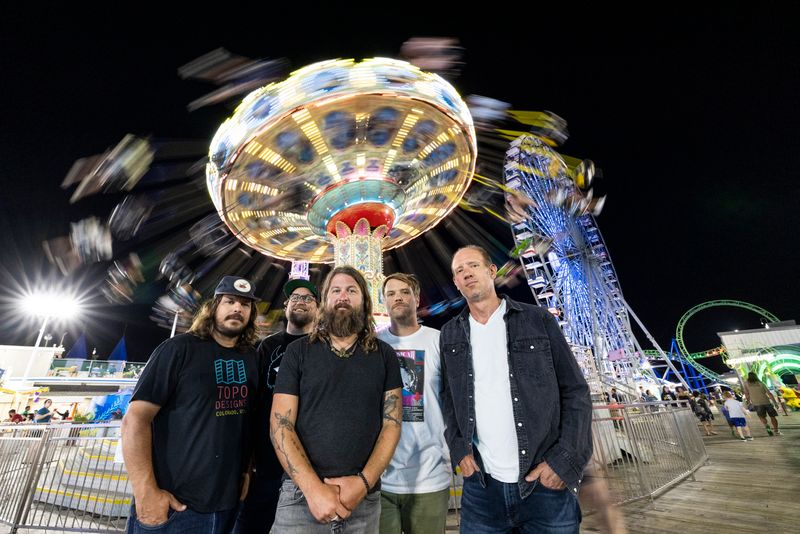 However, that is only the tip of the complex tale of the five musicians that make up Greensky Bluegrass: Anders Beck (dobro), Michael Arlen Bont (banjo), Dave Bruzza (guitar, Mike Devol (upright bass), and Paul Hoffman (mandolin).  The five are connected through a deep bond, just as they are seasoned road warriors, they're a band of brothers who have seen each other through decades of ups and downs, personal and collective highlights, and the moments when life turns it all upside down. 
All up-to-date news and tour information can be found at greenskybluegrass.com.
GREENSKY BLUEGRASS ON TOUR
Nov 01, 2023 @ Harrah's Lake Tahoe | Stateline, NV
Nov 02 @ Fox Theater | Oakland, CA*
Nov 03 @ The Sound at Del Mar | Del Mar, CA*
Nov 04 @ The Bellwether | Los Angeles, CA*
Nov 07 @ Tower Theatre | Oklahoma City, OK^
Nov 09 @ The Heights Theater | Houston, TX^
Nov 10 @ Austin City Limits Live at The Moody Theater | Austin, TX^
Nov 11 @ Ferris Wheelers Backyard & BBQ | Dallas, TX^
Nov 12 @ The Espee | San Antonio, TX^
Nov 15 @ JJ's Live | Fayetteville, AR^
Nov 16 @ Minglewood Hall | Memphis, TN^
Nov 17 @ Sanger Theater | Hattiesburg, MS^
Nov 18 @ The Joy Theater | New Orleans, LA^
Dec 06-10 @ Strings & Sol | Puerto Morelos, Mexico
Dec 28 @ Temple Theatre | Saginaw, MI
Dec 29 @ The Fillmore | Detroit, MI
Dec 30 @ Kalamazoo State Theatre | Kalamazoo, MI
Dec 31 @ Kalamazoo State Theatre | Kalamazoo, MI
Jan 11, 2024 @ Florida Theatre | Jacksonville, FL 
Jan 12 @ Miami Beach Bandshell | Miami Beach, FL
Jan 13 @ Jannus Live | St. Petersburg, FL
Jan 14 @ House of Blues | Orlando, FL
Jan 17 @ Charleston Music Hall | Charleston, SC
Jan 18 @ The Ritz | Raleigh, NC
Jan 19 @ The Fillmore | Charlotte, NC
Jan 20 @ The Eastern | Atlanta, GA
Feb 1 @ College Street Music Hall | New Haven, CT
Feb 2 @ MGM Music Hall at Fenway | Boston, MA
Feb 3 @ The Fillmore | Philadelphia, PA
Feb 4 @ The Paramount | Huntington, NY
Feb 7 @ Town Ballroom | Buffalo, NY
Feb 8 @ Stage AE | Pittsburgh, PA
Feb 9 @ The Anthem | Washington, DC
Feb 10 @ The Anthem | Washington, DC
Feb 29 @ Val Air Ballroom | West Des Moines, IA
Mar 1 @ Palace Theatre | St. Paul, MN
Mar 2 @ The Salt Shed | Chicago, IL
Mar 3 @ The Sylvee | Madison, WI
Mar 6 @ KEMBA Live! | Columbus, OH
Mar 7 @ Old Forester's Paristown Hall | Louisville, KY
Mar 8 @ The Ryman Auditorium | Nashville, TN
Mar 9 @ The Ryman Auditorium | Nashville, TN
* (feat. Holly Bowling) w/ The Infamous Stringdusters
^ w/ Lindsay Lou
# (feat. Holly Bowling) w/ May Erlewine
@ (feat. Holly Bowling) w/ Full Cord
** (feat. Holly Bowling)