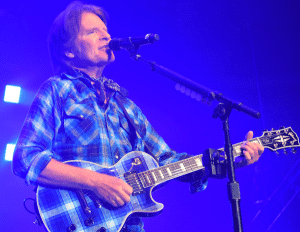 The former Creedence Clearwater Revival frontman is doing what a a number of popular musicians have been doing lately, that is headline a residency in one of the many performance venues in Las Vegas.
That was what led to an opportunity to interview Fogerty. The offer was too good to pass up, and John was kind enough to give us fifteen minutes of great, insightful information on this appearance, his career, the songwriting process, CCR's music style, and the stories behind a few songs, including his first self-penned hit, "Proud Mary."
"We were really trying to make it," explains Fogerty, about that critical time in his career. "We were in a sort of go for broke mode, because we all kind of realized, if we don't do it now, we probably won't get another chance." Readers may not realize that John Fogerty's first forays into music began almost nine years before CCR hit it big in 1968. That first group, The Blue Velvets, was an instrumental trio that consisted of John, Stu Cook on piano, and Doug Clifford on drums. All three, who first met in junior high, would eventually be a part of Creedence, with the addition of John's older brother Tom. The elder Fogerty had been in other local bands, and became their vocalist a year later, in 1960.
"You start having girlfriends and wives, and families. It takes you to different paths, if you don't succeed early in the rock and roll game."
The San Francisco based Blue Velvets signed to a jazz label in 1964, where the owner convinced the band to change their name to The Golliwogs. Success was still off on the horizon as Fogerty and Clifford were drafted into the military. Within a year, John managed to get off of active duty, but was still in the Army Reserves. As Fogerty explained, "It began to interfere with the idea of being a rock and roll musician. I'd travel [to a gig] somewhere way up in Northern California or way down in Southern California, and have to be back for reserve meetings the next morning. The whole process was driving me crazy. So I was in earnest trying to get myself released."
It was during this time that the band released their debut album on Fantasy Records, changed their name to Creedence Clearwater Revival, and had a top eleven hit with a cover of "Suzie Q," which had been a 1957 hit for Dale Hawkins.
Fogerty also realized that the band was going to have to come up with more original compositions. "I thought we were all going to be writing songs and coming up with arrangements," he says, "but as time wore on, I could see it was not going to be happening that way." Fogerty added, "We had a new resurgence or dedication of our energies about the time I got off active duty from the army, which was late in the summer of 1967. I forced myself to write songs. It became a habit with me."
"Once I got that mindset going, I wrote a whole lot of songs in a really short period of time."
CCR released four albums from early through the end of 1970. Fogerty was the principal author of all but seven songs on those records.
John was asked about the songwriting process. Fogerty explained, "Whenever I had an inspiration, I'd find a napkin or crayon and tried to write it down. It was kind of hit or miss. I thought I needed a notebook, and I got a small binder and write my ideas in it. I decided it was going to be my song titles book. The first song title I wrote in that thing was Proud Mary." He had no idea what it meant at the time.
It wasn't until the summer of '68 that the song came to fruition.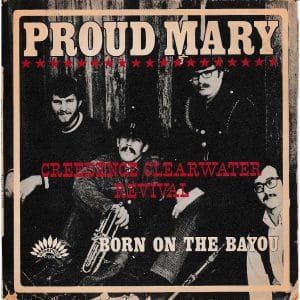 "One day I found my honorable discharge sitting on the steps of my little apartment house. I was really happy, relieved. I ran inside the apartment, and grabbed my little Rickenbacker guitar, and started strumming some chords. The next thing you know, I was writing down, "Left a good job in the city/Working for the man every night and day." Within about twenty-five, thirty minutes I had a lot of the song, and I still didn't know what to call it. I opened my book and 'wow,' there's Proud Mary, and I realize I'm writing a song about a boat. After about an hour's time, I was sitting there with about ninety percent of Proud Mary written. I held the paper in my hands, and I was just shaking. I was very, very agitated, because I knew that it was a really good song."
"It was like having lightning strike you, and that set me off down the road to being a songwriter."
Ironically, the Creedence sound was dubbed swamp rock, drawing heavily on the New Orleans R&B sound. That differed vastly from the experimental music being played by CCR's fellow bands in the San Francisco scene such as the Grateful Dead, Jefferson Airplane, and Quicksilver Messenger Service. Fogerty didn't care much for the long improvisations and extended jams. I'd grown up seeing people at the Oakland Auditorium, like James Brown, The Midnighters, and Duane Eddy," states John. "They didn't mess around. Two minutes went by and they would play another song. I really liked that high energy. That was certainly what I identified with."
John Fogerty's residency at the Venetian Theatre runs from September 14 though October 1, 2016. Audiences will be treated to videos, old photos, and personal stories, in addition to classics from throughout John's CCR days and solo career.
Below is our interview with John in which he discusses this, as well as explains the origins of several of his lesser known compositions.
This and all interviews are property of SRN Broadcasting. Limited non-commercial use is permitted for research purposes. All other uses require our permission.