The people that brought you Sacred Rose in 2022 are back with a cannabis-friendly event.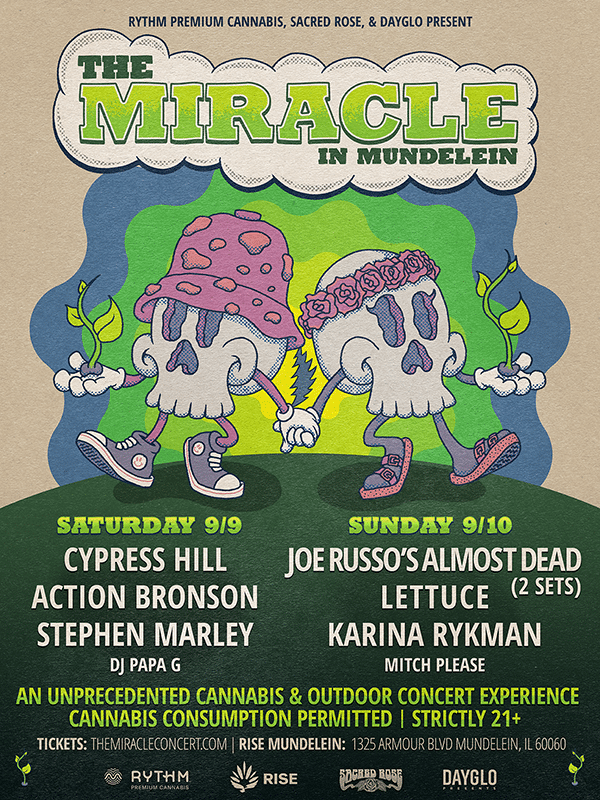 The inaugural The Miracle In Mundelein event is set to make history as Illinois' first music concert to permit onsite cannabis consumption. Taking place Saturday, September 9 – Sunday, September 10, 2023 outside of Chicago across the street from RISE Mundelein in Mundelein, IL.

The Miracle will be a two-day event merging music and cannabis cultures.Presented by RYTHM Premium Cannabis, Sacred Rose, and Dayglo Presents, The Miracle promises to be an unforgettable celebration of cannabis, music, art that fosters camaraderie across communities.The two-day event will span multiple genres, offering up a cultural mix of hip-hop, jam, reggae and funk artists. On Saturday, the lineup includes legendary, multi-platinum hip-hop group Cypress Hill, underground rap icon, cannabis enthusiast, chef, and media personality Action Bronson, eight-time GRAMMY-winning reggae artist Stephen Marley doing a rare, full-band acoustic set, and local artist DJ Papa G. Sunday's lineup includes world-class jam acts such as Grateful Dead offshoot Joe Russo's Almost Dead, funk-fusion group Lettuce, jam/experimental bassist Karina Rykman, and Chicago DJ Mitch Please.

In addition to the acutely curated music programming, The Miracle will offer attendees singular non-music experiences such as a dab bar, cannabis beverage garden, joint rolling, chilled bongs, and more.

"It is no surprise there is a rich and deep history between music and cannabis. We believe that the two together can create more connectivity, positivity, and well-being," says Ben Kovler, CEO of Green Thumb Industries. "The Miracle is our way of celebrating this unique intersection — with amazing music, high-quality weed, and a welcoming community. We are excited to put on an incredible show while providing a safe, legal space for cannabis consumption for everyone 21 and over."While cannabis sales will not be permitted inside of the event.

The Miracle will take place across from a Green Thumb dispensary, so patrons can conveniently purchase their cannabis products beforehand to enjoy onsite. All cannabis products being brought into The Miracle must be sealed.

Michael Berg, Founder of Sacred Rose Presents, says, "After decades of providing live music experiences, and as a long-time advocate for the medical benefits and recreational adult use of cannabis, contributing to this event is an honor and a special moment for the collective community in Illinois and the Chicagoland area. Growing up and attending high school only one town over and seeing how far things have evolved over the past 3 decades, it's truly a miracle that we're able to create such a unique and first-of-its-kind concert. Our extended team has worked closely with the village of Mundelein to ensure The Miracle is equal parts safe and fun for all attendees to celebrate the culture with performances from artists who align with the lifestyle."

Peter Shapiro, Founder of Dayglo Presents, expressed his excitement, stating, "Over the years, I've had the pleasure of producing many live music events, but this is truly a first.  The Miracle in Mundelein is more than just a concert, it is a testament to the relationship that music and legal cannabis can have when brought together in the right way. We named the event, The Miracle, because it really is remarkable that we can now bring cannabis and music together in 2023, and it is permitted and legal. Our goal is to create a new type of event, which showcases the uplifting impact of cannabis in a legal environment, while also supporting and growing a real community."

The Miracle will take place across the street from RISE Dispensary Mundelein, located at 1325 Armour Blvd, Mundelein, IL 60060. The event is strictly for individuals aged 21 and above, with on-premise consumption permitted.
Pre-sale registration for tickets is now open, offering exclusive access to secure a limited spot at The Miracle. General admission tickets will be available on June 8th. Single day passes are $69 for General Admission, and $178 for VIP. Two-day passes are also available for $129 for General Admission, and $346 for VIP.

THE MIRACLE IN MUNDELEIN LINEUP Cypress Hill Actio, Bronson, Joe Russo's Almost Dead, Lettuce, Stephen Marley, Karina Rykman, DJ Papa G, DJ Mitch Please.