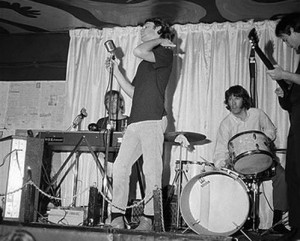 1966, The Doors played at the Whisky A Go-Go, West Hollywood, California auditioning for the position of the venue's house band.
1967, Sandie Shaw was at number one on the UK singles chart with "Puppet On A String." This week's two highest new entries were Jimi Hendrix with "The Wind Cries Mary," and The Kinks "Waterloo Sunset."
1968, Blue Cheer, supported by Quill, appeared at Boston Tea Party in Boston, Massachusetts.
1969, Neil Young & Crazy Horse played at The Stone Ballroom in New Haven, Connecticut.
1969, Beatles guitarist George Harrison's experimental album Electronic Sounds was released on Zapple records.
1970, The Guess Who started a three-week run at number one on the singles chart with "American Woman." It was the group's sixth Top 30 hit and only chart topper. The song was born by accident when guitarist Randy Bachman was playing a heavy riff on stage after he had broken a string, the other members joined in on the jam. A fan in the audience who had recorded the gig on tape presented it to the group after the show and they developed it into a full song.
1973, Mick Jagger added $150,000 of his own money to the $350,000 by The Rolling Stones January benefit concert for victims of the Nicaraguan earthquake.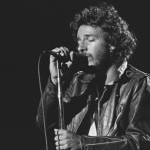 1974, Bonnie Raitt played two shows at Harvard Square Theatre in Cambridge, Massachusetts. The opening act was Bruce Springsteen and the E Street Band. Rolling Stone critic John Landau saw Springsteen and wrote "I have seen rock & roll's future and his name is Bruce Springsteen."

1974, Bob Dylan, appeared at a Friends of Chile benefit at New York's Felt Forum. He plays "Spanish Is the Loving Tongue" and "Blowin' in the Wind" with Arlo Guthrie, Phil Ochs, and Pete Seeger.
1977, The Grateful Dead performed at Memorial Auditorium in Buffalo, New York.
1980, "I Don't Like Mondays" by The Boomtown Rats won the best pop song and outstanding British lyric categories at the 25th Ivor Novello Awards.  Supertramp's "The Logical Song" won Best Song Musically and Lyrically. Boomtown Rats lead singer Bob Geldoff was inspired to write the song after hearing about the tragic shooting spree when 16-year-old Brenda Spencer killed two people and wounded nine others when she fired from her house across the street onto the entrance of a San Diego elementary school. Spencer showed no remorse for her crime and her full explanation for her actions was "I don't like Mondays. This livens up the day."  Geldoff was in Altanta, Georgia and described the inspiration, "I was doing a radio interview in Atlanta and there was a telex machine beside me. I read it as it came out. Not liking Mondays as a reason for doing somebody in is a bit strange."
1998, Jimmy Page appeared on Saturday Night Live with rapper Sean "Puffy" Combs and performed "Come With Me" from the Godzilla movie soundtrack. The song sampled the guitar riff from Led Zeppelin's song "Kashmir."
Born on May 9: Dave Prater, Sam & Dave (1937); Danny Rapp, Danny & the Juniors (1944) Richie Furay, Buffalo Springfield, Poco (1944); Steve  Katz, Blood Sweat & Tears (1945); Billy Joel (1949)