Today is February 25. George Harrison would have turned 70 today had he lived. The youngest of the Beatles will be featured all week long. Let's start today with his second number 1 song.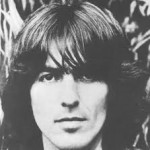 George Harrison[nb 1] MBE (25 February 1943 – 29 November 2001) was an English musician, singer, and songwriter who achieved international fame as the lead guitarist of the Beatles. Although John Lennon and Paul McCartney wrote most of the Beatles' songs, their albums generally included at least one Harrison composition.
During the 1960s, he became interested in the Hare Krishna movement, and became an admirer of Indian culture and mysticism, introducing it to the other Beatles and to their Western audience. Toward the end of the Beatles' career, he came to express and assert himself by incorporating Indian influences into his music. His songs with the band include "Taxman", "Within You Without You", "While My Guitar Gently Weeps", "Here Comes the Sun", "For You Blue", and "Something", which has become the second most-covered Beatles song.
Following the band's break-up in 1970, Harrison released the triple album All Things Must Pass, from which two hit singles originated. Later, he wrote hit songs for former Beatle Ringo Starr. With Ravi Shankar, Harrison organized the 1971 Concert for Bangladesh, a precursor to later benefit concerts such as Live Aid. Also a music and film producer, Harrison co-founded HandMade Films in 1978. He achieved several best-selling singles and albums as a solo performer, and in 1988 co-founded the supergroup the Traveling Wilburys. Rolling Stone magazine ranked him number 11 in their list of the "100 Greatest Guitarists of All Time".
Harrison was married twice, first to Pattie Boyd from 1966 to 1977, and from 1978 until his death from lung cancer in 2001 to Olivia Trinidad Arias, with whom he had one son, Dhani.
Podcast: Play in new window | Download (0.3KB) | Embed