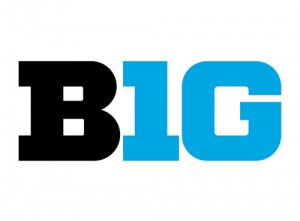 The offseason for college sports is like when a really hyped movie releases a trailer months before it's actual release.  Fans can't wait until it comes out.  But instead of full length trailers, you get lots and lots of teasers from your favorite teams. Considering the Big Ten won the first championship in the 4-team playoff format, there's a lot to look forward to this year. And the most exciting previews come from the Big Ten media day. Urban Meyer comes off his third championship, Wisconsin moves on from their record setting running back, Michigan introduces a coach known for team turnarounds, and Penn State's future looks bright.
Here's a Big Ten preview culled from the recent Media Days in Chicago
Ohio State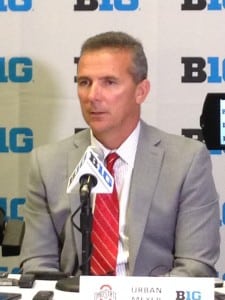 The main story out of Ohio State these past few days has been the suspensions of four players due to academic issues. Among them is the reigning Big Ten Defensive Player of the Year Joey Bosa, as well as running backs Jalin Marshall and Dontre Wilson, and wide receiver Corey Smith. "I kind of knew about this for a little bit. It was a university — I think the department has policies that we expect and I 100 percent am fully supportive of it." Coach Urban Meyer said in his opening statement. The comment I did make, we are playing an extremely talented team, very well-coached team on the road in a tough environment. However, we have recruited very well. So get going, move forward." He continued. The four players will miss the season opener against Virginia Tech, the only team to beat the Buckeyes last year.
No surprise, Ohio State opens as #1 in the preseason coaches poll. The Buckeyes won their first national championship since 2002, and Urban Meyer wins his third overall after previously winning two at Florida. The one question that was asked to almost every player at each big ten school was, "How are you going to prepare for the game against Ohio State?" Nobody had a definite answer, only that they would cross that bridge when they got to it.
[jwplayer mediaid="19131″]
Michigan
After leading the San Francisco 49ers to three conference championships and a super bowl appearance, Jim Harbaugh returns as head coach for his alma mater Michigan. "I'm excited to see all our players, how they come back from the summer. The players have a chance to work on their skills, and people improve over those months and those summers, and you don't really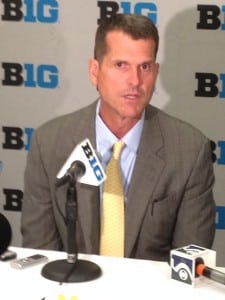 know how until you get onto the field." Michigan has struggled in recent years, finishing 2014 with a 5-7 record and no bowl appearance, which led to the firing of Brady Hoke after four seasons. Harbaugh was already an Ann Arbor fan favorite. As the Wolverines starting quarterback in 1985 and 1986, he won more than 80% of his games. As a head coach, he has a history of turning teams from worst to first. After taking over a 1-11 Stanford team in 2007, the Cardinals won the Orange Bowl in 2010. This success earned him the head coaching job with the San Francisco 49ers, who went from 6-10 to 13-3 in 2011 and ended their nine season playoff drought. It's almost a perfect fit that Harbaugh takes over the struggling Michigan Wolverines.
[jwplayer mediaid="19100″]
Northwestern
Last off-season, Northwestern hit a bit of a rough patch. Running back Venric Mark was suspended and then announced his intentions to transfer, and wide receiver Christian Jones was out for the season with a torn ACL. Not wanting the injury to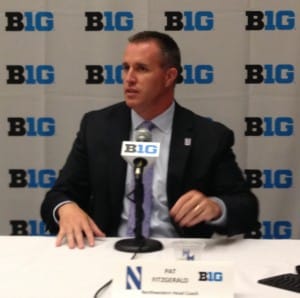 distract him, Jones spent last season getting ready for his return. "Watching the guys play, trying to tell myself this isn't as big of a deal as I'll make it. Trying to keep myself from getting down." Jones said. In 2013, he piled up 54 receptions for 668 yards and four touchdowns. Coach Pat Fitzgerald had his own thoughts on the offense this year. "We'll be much improved, we gotta settle the quarterback battle, we have a dynamic running back crew, you look at the success we've had over time with our offense, I fully expect that we'll be right back to where we've been."
[jwplayer mediaid="19103″]
Nebraska
Towards the end of the 2014 season, Nebraska made the surprising decision to fire coach Bo Pelini after seven seasons, despite never amassing less than nine wins per year. The Cornhuskers hired Oregon State coach Mike Riley as his replacement last January. "The transitioning part is not easy." Riley said. "But it's also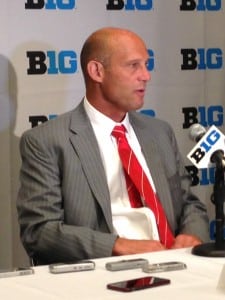 exciting. I'm personally exciting about being in a new conference. In my world of coaching football and going to new places, new stadiums with a great history like there is in the big ten, it will really be a lot of fun." He went on to say. Riley finished with a 93-80 record in twelve years with Oregon State.
Penn State
It took a few years, but things are finally looking up for Penn State following the Sandusky scandal. The NCAA reinstated their wins from 1998-2011 in January, and coach James Franklin is optimistic about the coming years. "So many positive things are falling into place now. Penn State is able to get scholarships back, having an opportunity to go to bowl games, the way recruiting is going, the way we played in the bowl, and the way the season ended." He said. Penn State appeared in their first bowl game since 2011 after their four year bowl ban was lifted, and all scholarships restored in 2015.
Illinois
It's not an easy start for Illinois coach Tim Beckman. Following accusations that he mistreated players, on top of not having a winning season in his three years with the team, his future remains uncertain. "You know, we're focused right now on a 2015 football team. We took off from last year after a great end of the year. And we've been focused since January on becoming a better football program. The philosophy that we continue to use is what these football players believe in football." Beckman's record as coach has steadily improved during his tenure, from 2-10, to 4-8, to 6-7. Although he was asked more than once about receiving a contract extension, he says all he is focused on is the first football game.
Wisconsin
It's always hard to replace a star college player after they leave for the draft. For Paul Chryst, he has no worries about Melvin Gordon's successor. But can you really replace the guy who set the NCAA record for rushing yards in a game? Then again, Gordon replaced Montee Ball, the guy who set the record for most NCAA rushing touchdowns in a season and a career. With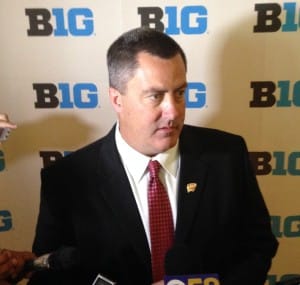 Gordon going to the San Diego Chargers, Corey Clement is set to be the next big Wisconsin running back. "I finally get the chance I've always wanted. Melvin has only taught me the finer things of how to prepare for each game and how to come into camp ready, and I'm just anxious to get out there for the first game against Alabama." Clement said. In his two years with Wisconsin, Clement has rushed for 1,496 yards and 16 touchdowns. "I think Corey has got a clear expectation of what it is to be the running back at Wisconsin. He knows who he is and he knows he doesn't have to be Melvin. So I like where he's at now." Paul Chryst said.