Lake Bluff, IL (December 2, 2019)
SRN Broadcasting today announced the release of the latest version of the InternetFM streaming radio app. The update introduces five new color schemes, an enhanced feedback system, and new stations to choose from, bringing the total number of stations on the platform to thirty-two.In addition to the updated app, the company also debuted a new InternetFM logo. 

In the updated app, users will be able to choose from five new color schemes including a red, white, and blue default, plus several new colors geared towards international users in our top five markets outside of the USA and Canada, Listeners in Mexico, Germany, Spain, and Brazil can display their national pride in green and white; black, red and gold; red & yellow; and yellow & green respectively.
"We are excited to release the newest version of our app in conjunction with the debut of our new logo," said SRN Broadcasting founder Steve Leventhal. "The upgraded designs highlight our continued growth as a company and reflect our passion for bringing hand-curated radio in a format that still allows the listener to provide instantaneous feedback, beyond the capacity of most radio apps." 
In addition to the new color schemes, the app also includes an enhanced feedback system that allows listeners to provide three different pieces of information on any song they hear on any of the stations.  Unique to this platform, users can anonymously cast an upvote, a downvote, or express a neutral response, based on song, artist, and genre. This allows listeners to continue hearing specific artists, even if they give a thumbs down to a particular song, unlike most streaming services, which will stop playing the indicated artist. This feature also enables stations to fine-tune their programming in response to listener feedback.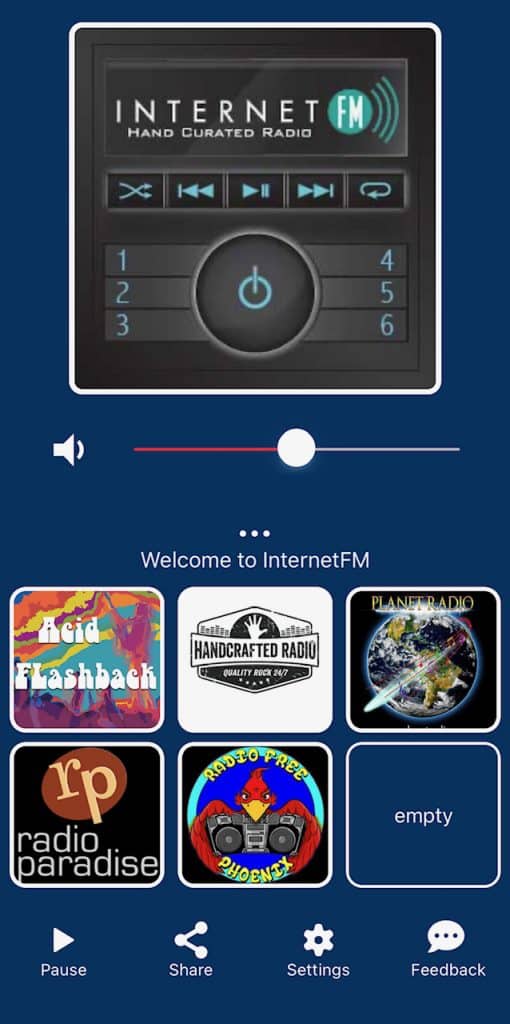 New stations on the InternetFM app include Classic Rock – The Vault, a part of the Scorpion Radio Group, five stations from ISKC radio in the Netherlands, including the first blues channel, and two stations from southern California: Alan Lohr's KONG Monster Rock and KXFU Alternative, founded by Lisa Fancher, owner of Frontier records.
For additional information and app store links, please visit internetfm.com/app
###
About SRN Broadcasting: SRN is a provider of broadcast services and programming, and sports coverage since 1993. Broadcast services include studio and recording services, post production and podcast delivery. Programming includes the Home Improvement 24/7 streaming radio network and the Home Improvement USA podcast. Sports coverage has included local, regional, and national coverage of sports teams and an archive of features and audio interviews spanning over twenty years.
About InternetFM: InternetFM is a network of 32 independent streaming radio station available at InternetFM.com and the InternetFM app. The flagship radio product is Acid Flashback radio, a free-form rock station programmed by Steven Leventhal, a radio veteran with nearly three decades of broadcast radio experience.

Contact:
Steve Leventhal
Steve@internetfm.com
847-735-1995