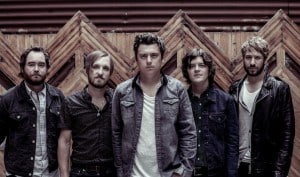 Nashville is hot these days, and not just because Music City is in a warm, southern state. Perhaps, it's the number of country crossover acts, as well as maintream rock bands that call Tennessee's capital home. This includes artists like Jack White, and groups such as The Black Keys and Kings of Leon. Also throw in the popular ABC television show Nashville, and it's no wonder this new musical mecca attracts up and coming artists the way that Los Angeles and New York have for decades.
One such group that has taken up residency in Nashville is The Wild Feathers. The band began inauspiciously when Ricky Young and Joel King met there back in 2010. They were playing in their own bands, but the pair melded musically, and began to search for another sonic partner to give them a Crosby, Stills, and Nash singer songwriter sound. Mutual friends recommended Taylor Burns, for his skilled electric guitar and his blues-tinged vocals. The fourth addition was Preston Wembley, whose harmonies fit in well with the trio, and augmented the country sound with his pedal steel guitar. The final piece of the puzzle was Ben Dumas on drums, and convincing Burns to relocate permanently from Austin. "Once we did that," says King, "it was full steam ahead. We cut some good demos, got a little [record] deal, and hit the road as much as possible. That's where we cut our teeth."
I wanted to do something greater than I could on my own. To create something bigger than any one of us individually, and write great songs that last the test of time. – Ricky Young (via TheWildFeathers.com)
The band's musical influences begin with classic rock, the Beatles, Bob Dylan, Rolling Stones, and Led Zeppelin. When you listen to their music, you can also hear Tom Petty, The Black Crowes, The Band, Gram Parsons, Dwight Yoakam, and Willie Nelson in their DNA. In fact, King's vocals evoke a young Petty.
It's kind of random how we write. Me and Ricky and Taylor do most all the writing. And we're always writing separately and together. However a song comes, it comes that way. Sometimes we sit down and someone says "OK I have an idea, and let's try to work this out," and it gets me going. Some songs, it's like "I wrote this yesterday, what do you guys think?" and they say, "It's perfect, that's fine. We'll sing on top of that. Play it."
The band members finally felt they were making it when Warner Brothers released their self titled debut in the fall of 2013. The Wild Feathers twelve-song album is a mix of alt-country rock songs, and blues infused ballads. The strongest cut is "The Ceiling." "It started off as a riff. It took a lot of building on that, because we tried to take from different songs," says King. Young added chords for the chorus, and Taylor donated a singing part. Then, the group meshed it all together, taking a cue from the Beatles playbook, adding another segment at the end. It's a chilling song, and the video, directed by Gus Black implies that the protagonist is takes matters into his own hands to help a young woman escape from a difficult relationship.
Another top notch song with a superb opening riff is "Backwoods Company," which King says is about "drinking and getting crazy out at a country cabin."
In researching the story, I uncovered a series of videos the band calls the "Truckstop Covers Series." King explains, "Way before the record came out we were just traveling to these shows and jamming, playing a lot of covers and messing around." Someone suggested they should record some of these songs. They were filmed at truck stops and rest stops, or driving to gigs. They include covers of Dylan, Petty, Levon Helm songs and an Allman Brothers classic.
"It's nice to be busy," notes King, "It's a lot of work as well, being gone all the time, and traveling. 'You don't get paid to play shows. You get paid to be gone and traveling all the time,' we say."
Joel King of The Wild Feathers speaks with Steve Leventhal of InternetFM.com
The Wild Feathers:
Ricky Young – acoustic guitar, vocals
Joel King – bass, vocals
Taylor Burns – guitar, vocals
Preston Wimberly – lead guitar, pedal Steel guitar
Ben Dumas – drums
Links
http://www.youtube.com/user/TheWildFeathersVids