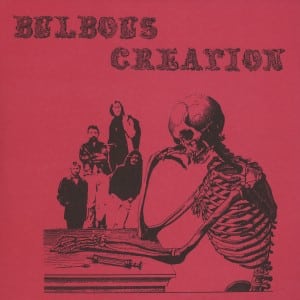 Today's entry is an oddity even for this blog – a song from an album that was officially released 44 years after it was recorded. In 1971, Kansas City band Bulbous Creation recorded their one and only album, You Won't Remember Dying, but before they could raise the money to release it, the band broke up. The album was unofficially released in 1995, but it wasn't until 2014, after 2 of the band members had passed away, that it received an official release on the Numero Group label.
The bulk of the album is downbeat, minor-key, Sabbathoid sludge rock, with today's tune, a flat-out rocker, being the exception. It's also one of the few tunes where the guitarist is somewhat in tune, the dude (and the rest of the band and the recording engineer) clearly had tin ears. That said, the album has a live, raw, urgent sound, as there are no overdubs, just a terrific late 60s – early 70s "heavy" music vibe, reminiscent of early pre-Michael Schenker UFO. As was typical of the era/genre, the bass is way up in the mix, think Mel Schacher of Grand Funk Railroad.
If today's slickly produced dance music, hip-hop and forgettable pop doesn't do much for you, have a listen to this and know that once there was a time when music was real.