Years ago, I was listening to Fresh Aire on NPR with Terri Gross as she did an interview with a woman who pointed out that Hibbing Minnesota's greatest export was Bob Dylan, not iron ore.  That spawned the concept to do a couple of shows called "Bob", and another pair titled "You Don't know Jack".  As I was digging my teeth into the first one, I realized that the formal version is Robert, as in Plant, Johnson, Cray, Gordon, and Palmer, along with a NASCAR driver, a questionable woman, and physician.  From that research we came up with a tribute, which comes from the name Hrodebert meaning "bright fame", derived from the Germanic elements hrod "fame" and beraht "bright".  This is The 3D RadioActivity # 368 as we get into something with these brilliant folks.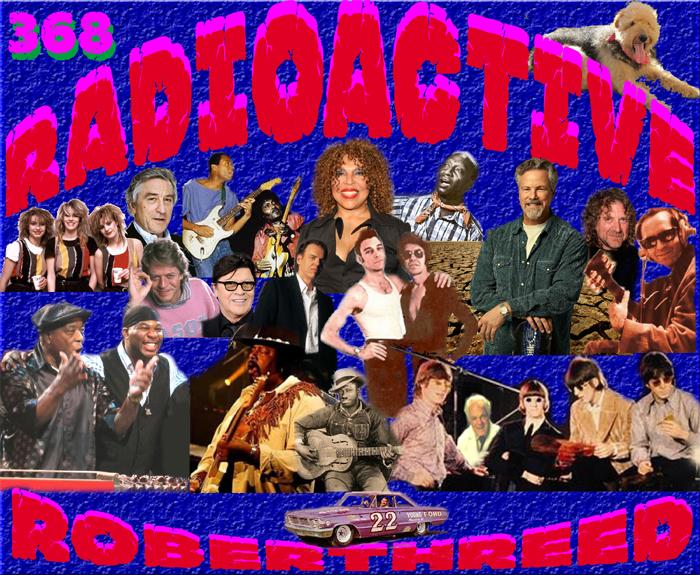 Click to listen =>[jwplayer mediaid="22625″]
My six siblings and I refer to ourselves as The Magnificent Seven, which is also my favorite prime number so that will be our efflorescent focus next time.  Tell me your ideas by sending email, or with a message on our Facebook page which has links to all the earlier episodes, graphics and our archives in the photo section.   As long as you are online, tell your friends to check us out, and be sure to look for us on Groovy Radio dot net.  Where all the Great songs go to play, Theacidflashback.com, MileHiRadio, TuneIn .com, and InternetFM dot com, because the best FM radio is now on the Internet.
Thanks for making us part of your plan, and Always Always, Always,Rock On!
"It's not true I had nothing on, I had the radio on."
…Marilyn Monroe