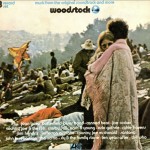 They were the penultimate act at the Woodstock Music & Arts Fair, coming on right before Jimi Hendrix 44 years ago today.
Sha Na Na was a 1950s revival group that hailed from Columbia University in New York City. By a stroke of luck, they were booked to perform at the Woodstock Music & Arts Fair in Bethel, New York in August of 1969 by festival producer Michael Lang who saw them perform in a small club.
They were on site for the whole weekend waiting for their turn to appear, but it wasn't until Monday morning after most people already left the grounds that they took the stage.
It was by a stroke of luck that their blazing performance of "At The Hop" was included in the Woodstock film bringing them national attention. While their music was totally out of step with the times, they managed to cause a sensation with their greased back hair, gold lame suits and in-synch dance routines.
Several years ago, a six CD set was released that included two more songs from their morning set. I would still like to see, and yes hear, their entire set from Woodstock. Hopefully, someday the powers that be will release all of the music and footage captured that weekend. Perhaps they're saving it all for the 50th Anniversary in 2019.
The group went on to record numerous albums for Buddah Records, host their own variety show on TV from 1977 through 1981, and appear in the film version of the musical Grease. Henry Gross, an original member of the group went on to score the huge '70s top ten hit "Shannon."
The group continues to tour today with several original members amongst its ranks.