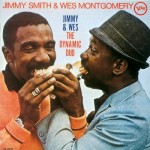 It was a summit between the leading purveyor of the Hammond B-3 organ, "The Incredible" Jimmy Smith, and one of greatest jazz guitarists of all time, Wes Montgomery. And together, they unleashed not one classic album, but two.
They didn't call him "Incredible" for nothing. Jimmy Smith was the single most influential jazz organ player of all time. He pretty much changed the landscape of Jazz during the late 1950s and throughout the 1960s by prolifically recording albums that popularized the Hammond B-3 Organ as a key instrument in jazz and blues. By combining the B-3 organ with a Leslie speaker, Smith was able to change the way the organ worked within the jazz idiom, by using the instrument as a musical and percussive element.
Smith signed with Verve Records in 1952 after a prolific stint with Blue Note and proceeded to record over 40 albums for the label during the 1950s and 1960s, including sessions with Kenny Burrell, George Benson, Grant Green, Stanley Turrentine, Lee Morgan, Lou Donaldson, Jackie McLean, Grady Tate and Donald Bailey.  He also recorded numerous big band sessions under the direction of Oliver Nelson including two albums with Wes Montgomery.
Wes Montgomery was right up there with Django Reinhardt, Grant Green, Charlie Christian, Gabor Szabo and George Benson when it comes to jazz guitar. And while he only walked this earth for a short time, he left behind a lasting legacy of recordings that never fail to astound.
Montgomery hailed from Indiana and idolized the guitar playing of Django Reinhardt and Charlie Christian. He didn't begin to play the guitar until the age of 20, and then primarily led his own small groups. He recorded sessions with the likes of Wynton Kelly, Jimmy Smith, Milt Jackson, Cannonball Adderly and Nat Adderly, and was once recruited by John Coltrane to join his group, although he declined in favor of leading his own.
Throughout the 1960s, he recorded for the Riverside, Verve and A&M record labels and was nominated for many Grammy Awards, winning one in 1966 for his recording of "Goin' Out of My Head."
Today's Song Of The Day comes from the album Jimmy And Wes: The Dynamic Duo which was the first of two albums Montgomery and Jimmy Smith recorded together in 1966. It was also Montgomery's last session for Verve before moving on to A&M records.
Together, the two let fly right from the outset on their superb swingin' take of "Down By The Riverside" that emphasizes all that is great about this musical union: conversant call and response interplay that leaves plenty of room for each musician to stretch out, a screaming horn chart courtesy of Oliver Nelson that raises the level of excitement, and the complementary kinship of Smith's percussive jabs on the organ keys with Montgomery's smooth, round guitar tones, as the two musicians push each other to new levels of greatness.
With inventive big band charts courtesy of Oliver Nelson and a cast of players including Clark Terry on trumpet, Phil Woods on reeds, Grady Tate on drums and Ray Barretto on congas, this album has much to offer, particularly on stellar readings of "Baby It's Cold Outside," Duke Ellington's "Night Train" (titled "Happy-Go-Lucky Local" here) and on a version of vibist Gary McFarland's "13 (Death March)" which is neither a march or deathly.
There's plenty of blues and greasy soul on offer in this classic album that was recorded by Rudy Van Gelder in 1966. It is part of Verve Record's excellent Master Edition series that includes a full color informational booklet with photos, and a bonus track alternate version of "O.G.D. (Road Song)" that was not part of the original album.