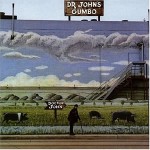 Where do you go after you've taken on an assumed name ("The Night Tripper") and released four of the funkiest, trippiest, psychedelic, voodoo-inspired albums in all of music history? If you're Dr. John, you go straight back home!
 "I decided I'd had enough of the mighty-coo-de-fiyo hoodoo show, so I dumped the Gris-Gris routine we had been touring with since 1967 and worked up a new act—a Mardi Gras revue."
Actually, going home was probably a good idea for Rebennack, since he needed to take some time out to clean himself up after acquiring a massive drug habit while touring the world as "The Night Tripper." So, Dr. John paid tribute to his home town of New Orleans for his fifth album, Dr. John's Gumbo, which was released in 1972. Included on the album are rollicking funky takes of New Orleans' classics including Professor Longhair's "Tipitina," Fats Domino's "Little Liza Jane," Earl King's "Let The Good Times Roll," Lloyd Price's "Stack-A-Lee,"  a medley of songs by Huey "Piano" Smith and today's Song Of the Day.
Dr. John is, perhaps best known as one of the funkiest piano players ever to come out of New Orleans. But it wasn't always this way. Back in the 1950s, Rebennack got his start as a session musician on the guitar, although his guitar career was cut short after sustaining a gunshot wound on his hand while trying to protect one of his band mates. After this incident, he briefly played bass before settling on the piano.
Here's what Dr. John had to say about "Iko Iko" from the liner notes of the album:
"The song was written and recorded back in the early 1950s by a New Orleans singer named James Crawford who worked under the name of Sugar Boy & the Cane Cutters. It was recorded in the 1960s by the Dixie Cups for Jerry Leiber & Mike Stoller's Red Bird Records, but the format we're following here is Sugar Boy's original. Also in the group were Professor Longhair on piano, Jake Myles, Big Boy Myles, Irv Bannister on guitar, and Eugene 'Bones' Jones on drums. The group was also known as the Chipaka Shaweez. The song was originally called 'Jockamo,' and it has a lot of Creole patois in it. Jockamo means 'jester' in the old myth. It is Mardi Gras music, and the Shaweez was one of many Mardi Gras groups who dressed up in far out Indian costumes and came on as Indian tribes. The tribes used to hang out on Claiborne Avenue and used to get juiced up there getting ready to perform and 'second line' in their own special style during Mardi Gras. That's dead and gone because there's a freeway where those grounds used to be. The tribes were like social clubs who lived all year for Mardi Gras, getting their costumes together. Many of them were musicians, gamblers, hustlers and pimps."
While Dr. John and the Dixie Cups' versions of the song are the most famous, artists as diverse as The Grateful Dead, Cyndi Lauper, The Neville Brothers, Warren Zevon, Long John Baldry, The Belle Stars and Dave Matthews have all taken the song for a ride around the block.