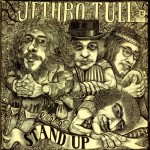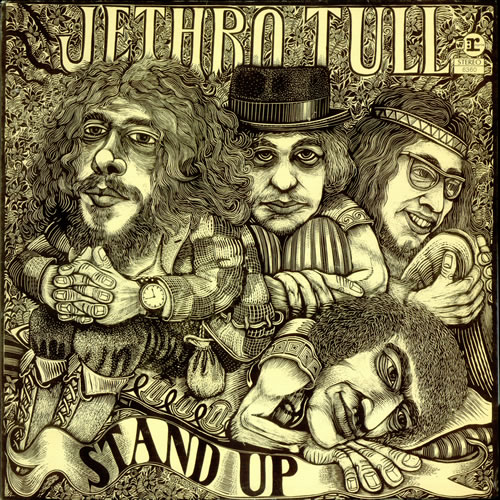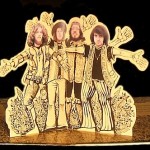 By the time of their second album, Stand Up, original guitarist Mick Abrahams was out of the band over a dispute over the future direction Tull's music would take. Abrahams wanted them to remain solidly a blues rock band as they were on their debut album, This Was, while Ian Anderson wanted to branch out, adding acoustic elements to their sound. Replacing Abrahams was new guitarist, Martin Barre, who has been in every other incarnation of Jethro Tull ever since.
 Stand Up saw the development of the classic Tull sound as we know it today. By adding the influences of classical music via the brilliant "Bouree" (a melody by J.S. Bach), elements of English folk on the tracks "Jeffrey Goes to Leicester Square" (one of three Tull songs devoted to Ian's childhood friend Jeffrey Hammond, who would later join the band) and "Look Into the Sun," the band carved out a unique niche in the music scene. Even Celtic music instrumentation crept into their arsenal of sound on "Fat Man," which was laden with rockin' acoustic mandolins, jagged bongos and, of course, heaping helpings of one-legged flute playing courtesy of Ian Anderson. And today's Song Of The Day is easily one of their loveliest recordings ever.  The addition of these influences to the already blues-heavy mix the band were known for predated the sound that Led Zeppelin would adapt several years later on tracks like "Battle Of Evermore" and "Going To California."
The album features the classic Tull line-up including Martin Barre on guitar, Glenn Cornick on bass, Clive Bunker on drums, and of course, Ian Anderson on flute, organ and vocals, further enhanced by the string arrangements of David Palmer.  It is by far Tull's most-consistent album, featuring some of their most organic rockers including "We Used To Know," "Back To The Family," "A New Day Yesterday" and "For A Thousand Mothers."
The group scored a #3 chart hit with the single "Living In the Past" in England while they were recording this album, but they wouldn't find themselves on radio in a big way or at the forefront of American rock music for a few more years, until the release of their breakthrough album Aqualung.
The album cover for Stand Up features a woodcut of the band, and original pressings had an image of the band in the center of the gatefold sleeve that would literally pop-up when the cover would open. Try doing that today with your MP3s…