Day One | Day Two | Day Three | Day Four/Five/Six
part three of my odyssey in Sin City
"The Bubble Boy"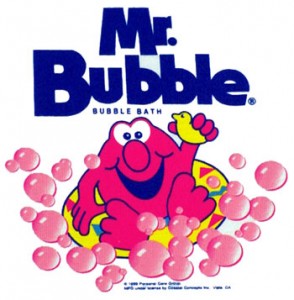 That is the one distinction that no poker player wants, yet I was one yesterday. The bubble boy is the moniker given to the unfortunate player who is the last one ousted from a tourney before the remaining players are "in the money." I've heard players say they'd rather bust out early than play for three hours and end up with nothing. Well, that's exactly what I did in my first foray on Thursday.
I played in the 9 AM Mega-satellite again at the Rio. There were about 115 entries and I was actually starting to see some cards. My biggest chip up was when I doubled my stack with a pair of pocket kings. In another hand I was actually an underdog against a better ace, but made a straight to knock another player out.
As the field was getting narrowed and the tourney was approaching the three hour mark, I was actually trying to broker a deal so that the remaining 17 or 18 players would all get paid, instead of the 14 that were officially going to cash in this event. I'm not some greedy bastard. My philosophy is if you get that far, you shouldn't walk away empty-handed. Deals are fairly common in tournament poker. Higher finishers will often pull a few bucks out of the winners' share to give to those just out of the money. However, everyone at the table has to agree, and there were two players who refused to budge.
"If it weren't for bad luck, I wouldn't have any luck at all." – Born Under A Bad Sign (Albert King)
So it's back to the felt. I had about 20,000 chips, more than enough to hang in there. But the blinds are at 4000/8000, which gets pretty pricey. There was an all-in as we got down to sixteen players, but everyone survived. Then at fifteen players, with two tables still going, the action goes hand-for hand, which means that each table plays a single hand so that no one at either of the two remaining tables can stall and wait for another to bust out first.
That was when I made my first mistake of the day. It's never obvious until after the fact. I was in early position (just after the big blind) when I saw that I had pocket tens. Most people are very conservative when the prize money is in within reach. So I went all-in. Most people would fold unless they had a good hand. As it went around, to my utter shock, not one, but two people called, for good reason. One had pocket Jacks, the other, two Queens. My tens held up about as well as the Bears offensive line, and although I had more chips than both players, I was left with 7500 chips after that fisasco. I was in the big blind next, and every last chip I had went into the middle of the table. Everyone was willing to give me a "walk" or fold to me, since I was the one trying to help the table, and would have allowed me to live for another hand. All, except one idiot, who decided to toss his chips in and call me with a King-nine. So out I went with bupkis. While the players feigned sympathy for me, inside, they were all happy to cash out.
I'm hopping mad; I'm as steamed as the weather outside. I want to break some furniture, but what am I going to do? I wanted to let out a few primal screams inside of me, and I walked out of the complex to cool my jets. So what does a degenerate poker player do as soon as he gets back to his hotel? Walk down to the poker room at the Planet Hollywood, only to find that the 1 PM tourney has just started. Big mistake. I don't think I made it past the second round of that one. I can't even remember now how I bowed out of that one.
So now I had a few hours to simmer down and regroup. Well it's Las Vegas, so why not choose something else to play. How about blackjack? Well as quickly as I went up $60, and turned around and lost it and dropped a hundred. That's why don't always like to play that game. You have to have a strong stomach and a big bankroll to handle the ups and downs. Here's a shoutout to my friend Ralph "the Hammer" Labuda, who is the blackjack king. He comes out here a few times a year, and mostly plays blackjack. And because he does that, and never plays for less than twenty-five bucks a hand, he get comped on everything here. Room, food, show tickets, you name it. The only thing I have been cash positive so far on, was the penny slots, where I won a whopping $11.20.
This story does get better, to a point. Late in the afternoon, I couldn't resist the urge, and had to take another shot at getting the cash to play in the WSOP event. So once again I returned to the Rio and plunked down another $185 for the 6 PM deep stack.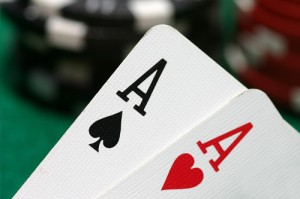 It looked like another case of déjà vu as I started out like every other event so far, with a lot of crappy cards. So what I normally do in that situation is study my tablemates, in hopes that if I get some cards, I can try to take advantage of someone else's weakness. Much to my surprise, I found myself in early position with pocket aces. Normally I don't like to "limp" in, making the minimum bet, because any fool could call and get two cards to a better hand on the flop, but the player in the big blind had been super aggressive, raising all game long. Sure enough, he raised, and I thought for a second, acting the part, and then pushed all my chips into the middle. I was delighted when he called, and I quickly doubled my starting stack of about 10,000 chips.
Then, something magical happened. I started getting some good cards and taking out several players at the table. The next thing I knew, the stack had grown to over thirty thousand, then fifty thousand chips. I was getting Kings, Jacks, even a few aces. Every time it seemed I called an all-in, I won the pot, and the few times I raised a pot, everyone folded to me.
There were over 330 entrants into that event, paying the top 34 finishers. Wednesday night I made it through half the field before getting knocked out. This time, things looked good as I even had more than the average chip stack of 36,000, which is a good barometer of how one is doing versus the field.
Too good to be true? Absolutely. Next, I went "card dead" again, getting nothing but junk. This allowed other players to increase their stacks versus mine. Whereas an hour earlier I might have been out ahead of everyone at the table, they began to catch up to me.
This is when I made my one and only critical mistake. Up to then I'd been playing pretty good poker. My typical game is conservative, then aggressive when I have the cards to back me up. With my stack down to just about 40,000, I bet out 7,000 chips (with the blinds at 1500/3000) in early position with a suited A-7. Everyone folded except the small blind. That should have been my first hint of trouble. The flop contained a queen, not in my suit, and some other inconsequential cards. The small blind checked. Proper play is to make a continuation bet, so I pushed out one of my stack of yellow 1000 chips (20,000) in all, and the small blind immediately went all-in. Oops. Now I'm in trouble. He had enough chips to knock me out. I had no choice, but to fold. I lost more than half of my chips on that one hand alone. It's always easier to know that in retrospect, I should have made a minimum bet to gauge if he had a better hand. Two hands later the big blind came around to me, and I had a Jack and Queen of spades. The player who had the biggest stack at the table and was properly betting big in late position to steal blinds and ante made a raise. So instead of calling, the dummy I am went all in. I know the poker gods have a sense of humor, because he flipped over pocket nines, the hand that has been killing me all week. This story gets better, because I'll see those dreaded nines again.
Anyways, I'm out in 54th place, and if I hadn't misplayed my A-7 so badly, I might have notched my first cash of the week. As so often happens in tournament poker, you can go from the penthouse to the outhouse in minutes. So I went home again, empty handed, mad at myself for having played pretty well, and them coming unglued in such a short span of time.
Friday-
I had yet another restless night's sleep. As anyone who travels occasionally knows, it's sometimes tough to get a good night sleep in bed away from home.
So thinking I was refreshed, I hopped in the elevator down to the casino right here at the Planet Hollywood. Have I mentioned that the PH is my favorite Vegas hotel?
How nice it is to have a poker room three minutes away. At home the nearest decent poker room is an hour away in Milwaukee or down in Hammond, Indiana, just across the state line. Perhaps that's a good thing, or I'd be there too often for my own good.
Anyway, I dropped in on their 10 AM tourney. It's a $65 buy-in with a guaranteed prize pool of $2000, half of which goes to the winner.
It seemed my card streak is still going, getting some pocket pairs and even A-J and other A-5. Except this time, none of the flops are working for me. I had pocket tens in the big blind, and I called a small raise instead of re-raising. So when a jack and queen showed up on the flop there was nothing I could do. Same for the ace-jack. The board has a king and nothing else. My starting stack of 3000 chips was dwindling fast. Pocket fives and sevens, no luck. So when I saw an A-10 of spades in my hand, I went all in. The only caller was the big blind, and can you believe it – she had a pair of nines?
Needless to say, that was the end of that tourney. It's a good thing there's no Golden Gate or Brooklyn Bridge here in Las Vegas, because I might have been tempted to jump off it. Instead I finally did what any rational human being should have done, which is to quit playing for the day. Instead of wasting another dollar, I went for a quick stroll around the Miracle Mile shops, which is the old Desert Passage shopping center, from the days when this place was The Aladdin Hotel.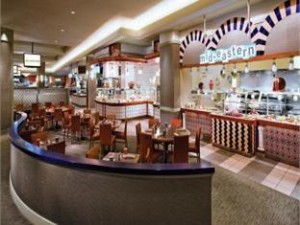 I also finally went to the buffet here at the hotel. The Spice Market lunch buffet for $18.99 is a hell of a deal. I chowed down some oriental salad, Middle Eastern delights, chicken tandoori, and stuffed tomatoes with lamb, before I even got to the carved roast beef and turkey. I never even made it to the traditional salads or Italian cuisine, let alone dessert, since I'm trying to shed some excess weight. I probably didn't help my cause with my impromptu three-course meal, but it was breakfast and lunch, so I can justify anything, I suppose.
The rest of the day was spent watching the US Open golf and the England-Sweden soccer match with a bunch of Brits at one of the hotel's many bars. In the late afternoon after a well-deserved nap, I went to the hotel's pool. They have two pools at the Planet Hollywood. One is for adults eighteen and up. It was crowded and a deejay was playing very loud music I did not care for. So I waltzed over to the all-ages pool, pausing briefly by the bar, only to see that beers were eight bucks a pop. Never mind, that's hotel pricing for you. The other pool was sparsely populated, which seemed pretty good. I found a pool chair upon which to stow my stuff, and made a beeline for the water. Even at 6 PM, it was still quite warm out, but shockingly, the pool water was cold. As crazy as it seems, I spent most of an hour out there in the Jacuzzi, with occasional forays into the pool to cool off.
Lastly, as we bring this sad saga to a close, I have retreated back to my room, mainly to write this update and stay away from the temptation to throw more good money away. I didn't even want to return to the Rio, only to be depressed at watching the Senior Open proceed without me.
Some Coke and Bacardi seem to be all the motivation I need to compose this latest update and stay out of trouble. Perhaps I'll watch "The Social Network" for the umpteenth time on my laptop. It always gets me jazzed about being an Internet entrepreneur, although my latest "preneur" hasn't been nearly as successful as Mark Zuckerberg's. It's still a work in progress.