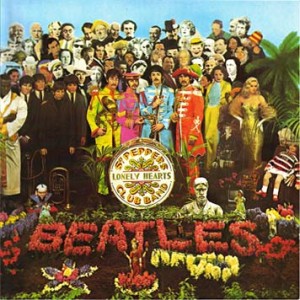 1967, Working at Abbey Road studios in London, The Beatles completed the sessions for Sgt. Pepper's Lonely Hearts Club Band. The final recordings were a short section of gibberish and noise which would follow "A Day in the Life," in the run-out groove. They recorded assorted noises and voices, which engineer Geoff Emerick then cut-up and randomly re-assembled, and edited backwards. At John Lennon's suggestion, they also added a high-pitch 15 kilocycle whistle audible only by dogs. These were omitted from the American version of the album.
1967, The Who appeared at The Dome, Brighton, England.
1967, Jimi Hendrix performed at City Hall in Newcastle upon Tyne, Tyne and Wear, England.
1967, Pink Floyd played two shows, an early performance at the Starlite Ballroom, in Greenford, and the late show at UFO, held at The Blarney Club, Tottenham Court Road in London.
1969, Janis Joplin made her London debut,  appearing at The Royal Albert Hall,  The opening act was Yes. Her performance earned rave reviews in Disc, Melody Maker, and Telegraph, among others.

1970, Three Dog Night, along with Stone the Crows, played at The Warehouse in New Orleans, Louisiana.

1970, Elton John performs his debut solo gig as a support act for T. Rex in London. Also on the bill were Spooky Tooth, Jackie Lomax, and Heavy Jelly.
1972, The Allman Brothers Band played at New Haven Arena, New Haven, Connecticut.
1972, David Bowie performs at the Free Trade Hall, Manchester, England.
1972, Pink Floyd appeared at the Lyric Theatre in Baltimore, Maryland.
1972, The Grateful Dead performed an eighty minute set that was taped for the German TV show Beat Club, in Bremen, Germany.
1973, Alice Cooper went to number one on the album chart with Billion Dollar Babies.
1973, King Crimson played at the Indiana State Fair Coliseum, Indianapolis, Indiana.

1973, Tony Orlando & Dawn started a four week run at number one on the singles chart with "Tie A Yellow Ribbon Round The Old Oak Tree," It became the biggest seller of 1973, with over 6 million copies sold. The song was based on a true story of a prisoner who wrote to his wife asking her to tie a yellow ribbon around an oak tree in the town square in White Oak, Georgia, if she still loved him.
1974, Genesis appeared at the Montreal University Sports Centre in Montreal, Quebec. The show was broadcast by CHOM-FM radio, and is a popular bootleg among Genesis fans.
1975, Yes headlined at Usher Hall, Edinburgh, Scotland.
1976, Elvis Presley performed at Kemper Arena, Kansas City, Missouri.
1977, Songwriter Jesse Winchester performs in the U.S. for the first time in ten years. He escaped to Canada a decade ago in order to avoid the draft.
1977, ZZ Top appeared at the Rochester Community War Memorial, Rochester, New York.
1978, The Grateful Dead played at Rupp Arena on the campus of the University of Kentucky in Lexington, Kentucky.
1978, UK folk singer Sandy Denny died aged 31. While on vacation with her parents in Cornwall, England, Denny was injured in a fall down a staircase. A month after the fall she collapsed at a friend's home. Four days later she died at the hospital, her death was ruled to be the result of a traumatic mid-brain hemorrhage. She was a member of Fairport Convention and a solo artist. Her 1967 song "Who Knows Where the Time Goes," was covered by Judy Collins. Denny sang on the Led Zeppelin track "Battle Of Evermore" on the band's fourth album, the only guest vocalist on a Led Zeppelin album.
1979, Roxy Music played at the Pasadena Civic Auditorium, Pasadena, California.
1981, U2 performed at The Decade, Pittsburgh, Pennsylvania. This small club in the Oakland section of town hosted a number of up and coming acts like The Ramones and the Police, as well as impromptu shows from Bruce Springsteen and Bon Jovi during its heyday.
1982, Clash front man Joe Strummer disappeared for three weeks, which resulted in the group cancelling a tour. The singer was found living rough in Paris, France.
1984, Van Halen appeared at the Colisée de Québec, Quebec City.
1984, Phil Collins started a three week run at number one in the US singles chart with the theme from Against All Odds. It was Phil's first US chart topper, a number two in the UK.
1990, Paul McCartney played in front of 184,000 fans at the Maracana Stadium in Rio de Janeiro, creating a new world record for the largest crowd attending a rock concert.
1990, Sinead O'Connor started a four week run at number one on the US singles chart with her version of the Prince song "Nothing Compares 2 U." The track was also a chart topper in 18 other countries. The video was shot in Paris, and consists almost solely of a close-up on O'Connor's face as she sings the lyrics. Towards the end of the video, two tears roll down her face. The clip won Best Video at the 1990 MTV Video Music Awards, the first video by a female artist to win in this category.
2000, Neal Matthews of The Jordanaires died of a heart attack. He sang on Elvis Presley's "Don't Be Cruel" and "Hound Dog." He also worked with Ricky Nelson, Patsy Cline, Red Foley, Johnny Horton, Jim Reeves, George Jones, Marie Osmond, Tom Jones and Merle Haggard.
2002, Oasis went to number one on the UK singles chart with "Hindu Times," the band's sixth UK number one and the first single to be released from their fifth album Heathen Chemistry.
2006, The Soul2Soul II Tour, a co-headlining tour featuring husband and wife country music singers Tim McGraw and Faith Hill, kicked off at the Nationwide Arena in Columbus ending after 73 shows on September 3, 2006 in Las Vegas. The tour became the highest grossing country music tour ever with a sales of $90 million.
2008, American soul singer and songwriter Al Wilson died of kidney failure at the age of 68. Wilson had a number of US hits, including "The Snake" in 1968 and "Show and Tell" in 1974.
2016, American singer-songwriter, multi-instrumentalist and music legend Prince, born Prince Rogers Nelson, was found dead in his residence and recording studio complex, Paisley Park, in suburban Minneapolis, Minnesota. Prince was renowned as an innovator, and was widely known for his eclectic work, flamboyant stage presence, and wide vocal range. He was widely regarded as the pioneer of Minneapolis sound. His music integrated a wide variety of styles, including funk, rock, R&B, soul, psychedelia, and pop.
Born on April 21: Alan Wagner, The Foundations (1947); American singer-songwriter, musician and actor James Osterberg, aka Iggy Pop (1947); Mike Barson, keyboards, Madness (1958); Robert Smith, The Cure (1959); Johnny McElhone, Altered Images (1963)