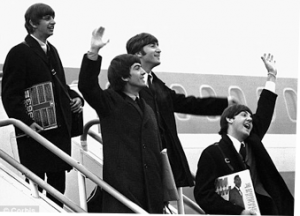 1962, With just two hours of rehearsal, Ringo Star makes his Beatles debut at the Horticultural Society Dance at Birkenhead, England.
1964, Over 9,000 frenzied fans met The Beatles as they arrived in San Francisco, to begin an American tour. The Beatles were driven into a protective fence enclosure so that photographers could take pictures. As the 9,000 fans pressed against the fencing, it gave way, with The Beatles managing to get out split-seconds before it came crashing down.
1965, During a US tour The Beatles appeared at Atlanta Stadium, Atlanta, Georgia to a sold out crowd of 35,000. Tickets cost $5.50
1966, Paul Jones left Manfred Mann just as "Pretty Flamingo" was climbing the US charts. He was replaced by singer Mike D'Abo, who would take over lead vocals on the bands next hit, "The Mighty Quinn," a song written by Bob Dylan.
1967, The Who were supposed to play a headlining show at The Big Moose Showcase in Lorain, Ohio. It is canceled by Dick Clark, who didn't want The Who appearing near Cleveland so close to the Herman's Hermits date on the 31st.

1968, The Who perform at Kelker Junction Night Club in Colorado Springs, Colorado.
1969, Mick Jagger was accidentally shot in the hand during filming of Ned Kelly in Australia.
1969, King Crimson performed at Cooks Ferry Inn, London.
1969, During a North American tour Led Zeppelin played two shows at the Rock Pile in Toronto.
1970, Yes plays at the Marquee Club, London.
1970, The Grateful Dead performed at the Fillmore West in San Francisco, California.
1971, The Who played at the Auditorium Theatre in Chicago.
1972, It's a Beautiful Day and Brownsville Station appear at The Warehouse in New Orleans, Louisiana.
1973, Diana Ross scored her second number one single with "Touch Me In The Morning." The song marked a turning point in her career, coming immediately after her Academy Award nomination for Best Actress in her acting debut, Lady Sings the Blues.
1973, Jethro Tull scored their second number one album with A Passion Play.
1974, Aerosmith appeared at the Westboro Speedway, Westboro, Massachusetts.
1976, Variety reported that Marvin Gaye faced two consecutive five day prison terms in Los Angeles county jail for contempt of court after failing to pay alimony and child support.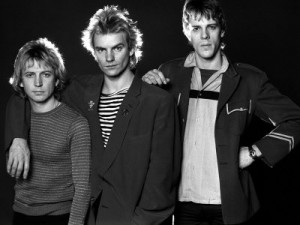 1977, The Police made their live debut as a three-piece band when they played at Rebecca's Birmingham, England.
1977, Foreigner appeared at the Circle Theatre, Indianapolis, Indiana.
1978, AC/DC played at Concert Hall, Calderone, New York.
1979, Nick Lowe married Johnny Cash's stepdaughter Carlene Carter in Los Angeles. The couple are now divorced.
1979, AC/DC, Nils Lofgren, The Stranglers and The Who all appeared at Wembley Stadium, London, England.
1980, Black Sabbath played at the International Amphitheater, Chicago.
1981, Van Halen performed at the Hollywood Sportatorium, Pembroke Pines, Florida.
1982, The City of Liverpool named four Streets after the fab four: John Lennon Drive, Paul McCartney Way, George Harrison Close and Ringo Starr Drive.
1983, The Police plus Joan Jett & the Blackhearts and R.E.M. (their biggest gig to date) all appeared at Shea Stadium, New York City.
1986, Bon Jovi released their third studio album, Slippery When Wet, which peaked at No.1 on the charts, going on to sell over 28 million copies worldwide. The set featured two US chart toppers, "You Give Love A Bad Name" and "Livin' On A Prayer."
1991, Rick Griffin, died after being forced off the road by a van he was attempting to pass on his Harley Heritage Softail motorbike. One of his best known album covers was for the Grateful Dead's 'Aoxomoa' LP, and the legendary "Flying Eyeball" poster he designed for a series of concerts in San Francisco featuring the Jimi Hendrix Experience, Albert King and John Mayall.
2008, Soul singer Pervis Jackson died of cancer. Was a member of The Spinners (Also known as The Motown Spinners and The Detroit Spinners). He had the 1980 UK number one and US number two single "Working My Way Back To You."
Born on August 18: Carl Wayne, singer, The Move (1944); Nona Hendryx, Labelle (1945); Nigel Griggs bass, Split Enz (1949); Dennis Elliott, drums, Foreigner (1950); Patrick Swayze, actor, singer (1952); and Dan Peters, drums, Mudhoney (1967)