Alright..we are upon the weekend and our last Cool Classic Cover belongs to Peter Frampton from an album which basically made him. Give it a listen please!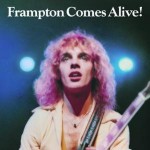 Frampton Comes Alive! is a double live album by English rock musician Peter Frampton released in 1976, and one of the best-selling live albums in the United States. Following four solo albums with little commercial success, Frampton Comes Alive! was a breakthrough for the artist.
Released on January 6, 1976, it debuted on the charts at 191. The album reached number one on the Billboard 200 the week ending April 10, 1976, and was in the top spot for a total of 10 weeks. It was the best-selling album of 1976, selling over 6 million copies in the US and became one of the best-selling live albums to date. Frampton Comes Alive! was voted "Album of the year" in the 1976 Rolling Stone readers poll. It stayed on the chart for 97 weeks and was still #14 on Billboard's 1977 year-end album chart.
The most recognizable songs from the album are "Show Me the Way", "Baby, I Love Your Way", and "Do You Feel Like We Do", all of which were released as singles, and continue to receive much airplay on classic rock radio stations.
In January 2001, a 25th Anniversary Deluxe Edition of the album was released, containing four additional tracks that were not included on the original version (although one of these was recorded in a radio studio as part of a broadcast, and does not form part of the main concert programme). The track sequence is also significantly different, to more accurately reflect the set list used in the original concerts. Frampton produced the completely remixed and extended album, and played an impromptu live performance with the original band from the album at Tower Records in Los Angeles to help promote the release.