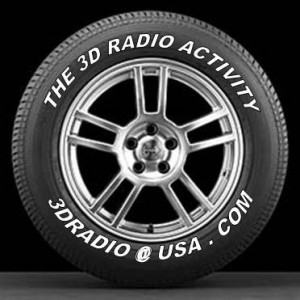 Uncle Marty and The Seanimal host The Award Winning 3D RadioActivity. We have over 100 feet of vinyl in the collection, and well over 100,000 song files on the hard drive. Each week, a different topic is chosen, sometimes seasonal, and songs are played that cover the idea. We present you with interesting bits of information about each song or the artist, adding the extra dimension for your list…ening enjoyment. All forms of music, from Acoustic to Zydeco. Just about anything between 20 Hz and 20 kHz.
Be sure to visit (and like) The 3D RadioActivity Facebook page!
The 2011 SFSU BECA Award in Recognition for The Best Original Radio Program.
2012 BEA/NAB Award in the Specialty Program category.
The 3D RadioActivity home page with archived shows
There have been 178 recipients during the Kennedy Center Honor's first 34 years. This time on
The 3D RadioActivity
, we are playing the original songs from the performers that were covered by other artists in this yearly tribute. They have been presented annually since 1978 in Washington, D.C., during a weekend-long party that culminates in a performance to recognize this achievement, as they acknowledge those in the on stage arts for their lifetime of contributions to American culture. President Jimmy Carter reminded us how the affects are global as he commented "These people come here through the auspices of the Kennedy Center, but as a matter of fact they come here to honor us and all the people of the world." We think you will enjoy this celebration of cultures.
You can listen The Kennedy Center Honors in 3D here:
or download direct:
https://archive.org/download/The3dRadioactivity/3dradio_20140413-KennedyCenterHonors.mp3
Gospel and The Oscars are just around the corner!  Be sure to let us know if you have any prize winning ideas.
On The 3D RadioActivity,  I try not to stick to one artist, instead I generally limit it to one cut per show by a performer. If you are checking it out, you will see what I mean. in five years the number of songs I have repeated are very minimal. Over  5,000+ individual tunes and 400 hours of production!  I formally invite all to visit our Facebook page, "Like " it and (of course) give it a listen and then make your suggestions there or via email for future shows as we are now into our sixth year of your show, Sean and I merely host it for you.
Look for us online here https://archive.org/details/The3dRadioactivity to find all of the previous shows, and all over the web via TuneIn .com, & InternetFM too.
Be kind to each other, & thanks for turning me on & tuning me in!
"Education is When You Read the Fine Print.
Experience is What You Get If You Don't."
~ Pete Seeger