A calendar of rock history including birthdays, deaths, milestones, chart toppers, concerts, record releases, and other important events in music history.
Our sources include: Wikipedia,  This Day in Music, This Day in Rock, Led Zeppelin.com, Classic Rock Concerts, The Concert Database,  Live Music Archive,  The Allman Brothers Band, Janis Joplin.net, The Who This Month, Setlist.fm, All The Songs: The Story Behind Every Beatles Release by Jean-Michel Guesdon & Phillipe Margotin (Black Dog & Leventhal Publishers,)  Echoes – The Complete History of Pink Floyd  by Glen Povey (Mind Head Publishing)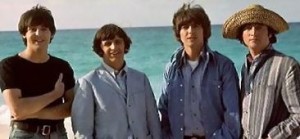 1965, Filming began on The Beatles follow up to A Hard Days Night on location in the Bahamas with the working title of Eight Arms To Hold You.
1966, During an 11-date tour of Australia and New Zealand The Rolling Stones played the first of four nights at the Palais Theatre, St Kida, Melbourne.
1967, Jimi Hendrix appeared at Worthing Pier in Worthing, West Sussex, England. … (read more…)