The Weekend Sports Report is hosted by "Packer" Dave Rusch and Steve Leventhal.
The Weekend Sports Report presents guests from around the world of sports. Our focus is Chicago, the Midwest, and stories our listeners want to hear about.
The Weekend Sports Report takes you inside the locker room with audio from the top players and coaches.
Show Archives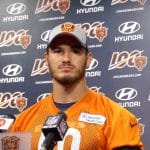 with Packer Dave, Steve Leventhal, and John Poulter
The guys are back to discuss the Toronto Raptors' first ever NBA Championship, the St. Louis Blues and their seven-game Stanley Cup win over Boston, as well as talk of the Chicago Bears and Green Bay Packers offseason football. John also gives his thoughts on the Major League Baseball season. Lastly, Jeff Rich joins us to talk Cleveland Browns football and the upcoming NBA Draft. We also discuss the trade between the Lakers and Pelicans that sent Anthony Davis to Los Angeles for the fourth overall pick and three players.
Podcast: Play in new window | Download (Duration: 44:34 — 40.8MB) | Embed