The New England Patriots roll into the Windy City this Sunday for a showdown against the Chicago Bears. The Bears, coming off a heart-breaking loss to the Miami Dolphins, will look to avoid losing their second straight in what could be Tom Brady's final game in Chicago.
Rushing Brady
The Patriots present the same daunting task as always: Tom Brady. Perhaps the greatest quarterback of all time, Brady has never lost to the Bears, compiling a perfect 4-0 record against them.
There's a mystique about Brady that, on its own, can make coaches outthink themselves. We saw this happen to the Jacksonville Jaguars in the AFC Championship when they went against their gameplan and stumbled to a second-half collapse.
"That's that whole chasing the cat's tail thing," coach Matt Nagy said. "And all of a sudden you start outthinking yourself. You know, 'What the heck?' That's the mystique and that's what they do."
"When you don't go too crazy with that and you balance it and you control what you control, then, in the end, win lose or draw, no matter what, you at least feel good that you approached it the right way."
The Bears could take a page out of the Broncos' book. On their way to Super Bowl 50, the Denver Broncos and their vaunted defense knocked the Patriots out of the AFC Championship. Von Miller wrote about it in the Players' Tribune, saying, "I'm coming from one side, (DeMarcus) Ware from the other, and the defensive tackle gets enough of a push that when (DeMarcus) Ware and I meet in the backfield, Tom has nowhere to go." There is no doubt Khalil Mack can get pressure from the edge and Akiem Hicks can pressure up the middle. Opposite Mack, Leonard Floyd will have to make an impact to create pressure all around Brady and prevent him from navigating within the pocket.
It should be noted that Khalil Mack did not practice on Wednesday and is listed as day-to-day. It can't be overstated how crucial his presence is to the Bears' pass-rush, and by virtue, the Bears' chances of winning.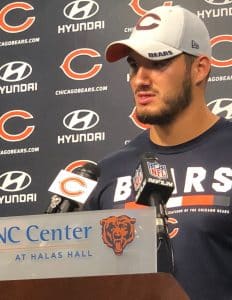 Tackling in the open field
The Bears struggled to make plays in the open-field against Miami, and those struggles resulted in 274 yards allowed after the catch. The Miami receivers, specifically Albert Wilson, beat them more than Brock Osweiler did.
Bubble screens and the short passing game killed the Bears, as well as their struggles to bring down Frank Gore, uncharacteristic for a defense ranked first in DVOA.
"It wasn't who we've been here in the past, even throughout this stay. It was disappointing and something that's got to be corrected," Vic Fangio said.
"Teams have bad days in a lot of ways and that was one of ours."
The Patriots have an array of weapons that hurt teams in various ways. Julian Edelman is dynamic out of the slot, Josh Gordon is an explosive deep threat and Rob Gronkowski is nearly impossible to cover. They get the ball to their playmakers, further stressing the importance of making fundamental tackles in space.
"We didn't play as well last game but we're still confident and we know what we are capable as a team," linebacker Danny Trevathan said.
The Bears struggled to contain Frank Gore in Miami, so Sony Michel stands to receive plenty of carries. He has overcome a subpar start to become the running back New England envisioned him to be when they drafted him in the first round.  The Bears have one of the best run defenses in the league and containing Michel, yet another weapon in the Patriots' arsenal, is another step to victory.
Keep the ball rolling on offense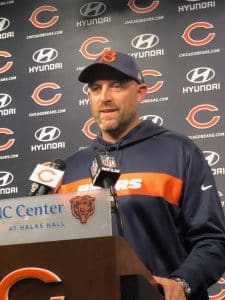 While the Miami loss left a sour taste in fans' mouths, the game can't be discussed without bringing up the offense's success. One of the biggest questions entering Week Six was whether or not Trubisky would build on his Week Four shredding of the Tampa Bay Buccaneers. A rough first half drew baited-breaths from watchers but Trubisky settled in once the second half began. Though there were a couple head-scratching throws, Trubisky adjusted to Miami's exotic looks that had thrown him off in the first half. He threw with anticipation and connected on a couple deep shots to Taylor Gabriel.
"He throws a good deep ball," Gabriel said. "He throws a real good deep ball. Lot of touch on it. And I feel like we're only growing from what we already did and what we already kind of put together as in deep balls."
Trubisky's next task is to face the defense of the great Bill Belichick. New England's defense has struggled this season, and their last game against the Kansas City Chiefs was no exception, surrendering 446 yards of offense.
Mahomes filled out the stat sheet, but New England kept him off balance and he didn't look like the dominant slinger he had been in weeks prior. Quarterbacks generally don't fare well in their first start against New England, and Belichick is why. He knows how to keep young quarterbacks uncomfortable, and will have something up his sleeve to do so against Trubisky. It is a daunting challenge, but Trubisky has shown to be capable of producing. Sunday will show how ready both he and Nagy are for one of the best minds in the NFL.
Twitter: @crbevins @radiomogul
Hear audio from Matt Nagy, Vic Fangio and Danny Trevathan: