These two Chicago Bears standouts were selected by their teammates to receive this distinguished honor.
The Piccolo Award has been given to a Bears rookie every season since 1970 in memory of Brian Piccolo. In 1992, the award was expanded to include a veteran as well. The Piccolo Award is a special honor voted on by Bears players, who select a teammate they feel best exemplifies the courage, loyalty, teamwork, dedication and sense of humor of the late Brian Piccolo.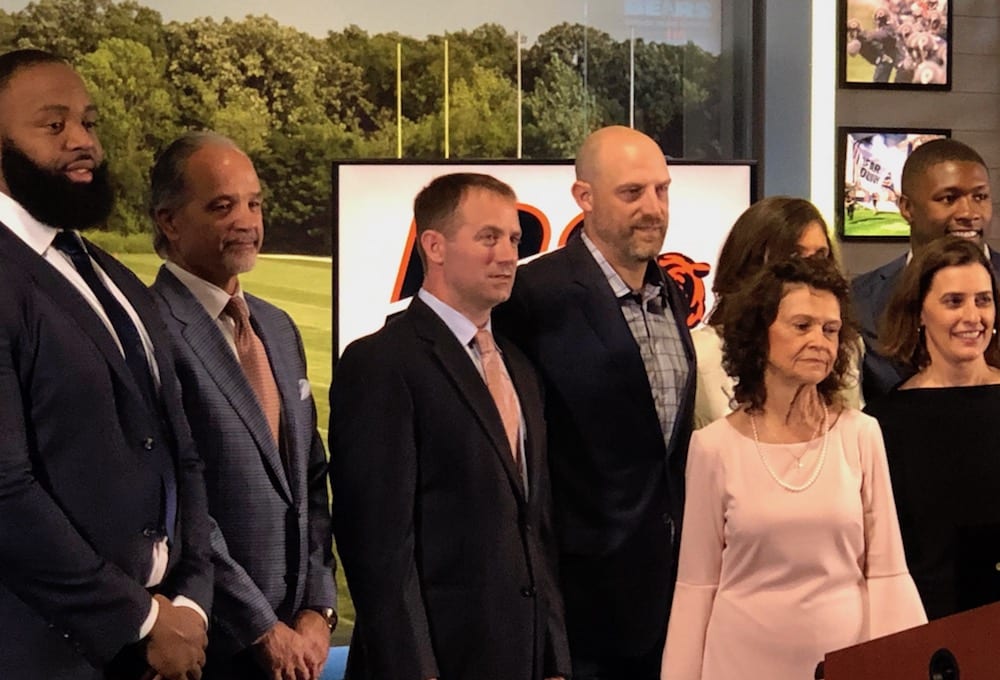 Patrick McCaskey, grandson of Bears founder George Halas acted as master of ceremonies. First he introduced Piccolo's daughter Traci who noted, "It's hard to believe that it's been forty-nine years since we founded the Brian Piccolo Cancer Research Fund to carry on my father's legacy and find a cure. She went on to talk about how much money has been raised, some of the current research, and expressed her thanks to the McCaskey family for all their support.
Coach Matt Nagy went next. He stressed how the team makes Piccolo's legacy important, and how much it means to the players and coaches. "I think Our whole city, our whole family, our whole organization, should be extremely proud of the high character people we have, and how much family we've become."
Assistant Linebackers coach Bill Shuey introduced rookie honoree Roquan Smith by saying, "Roquan epitomizes the characteristics associated with the Brian Piccolo award. Courage, loyalty, teamwork, dedication, and the sense of humor. He has all of them." Shuey added, "He's an extremely hard worker, and he practices like he plays, but he also has a lighthearted side to him. His (Roquan's) fast and tenacious style of play, coupled with humble and hard-working approach to the game, has earned him the respect of his coaches and teammates."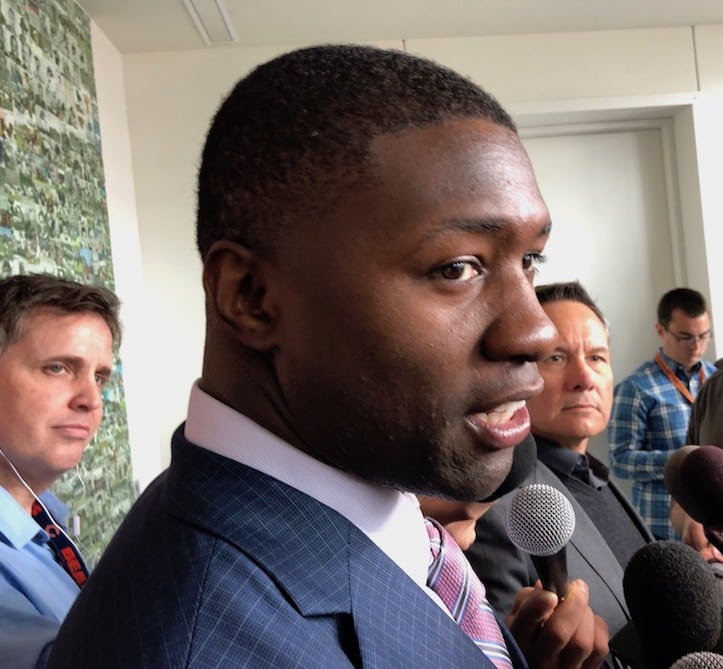 The soft spoken Smith humbly accepted his award. "I'm honored to stand if front of you guys. I would like to thank the entire Chicago Bears organization for giving me an opportunity to live out my dream. To my teammates, I wouldn't be here without you guys who have encouraged, motivated, and graciously taught me so much about this game on a daily basis. And also for noticing my hard work, courage, loyalty , and teamwork."
New Defensive Coordinator Chuck Pagano talked about his own personal battle with cancer. "To the Piccolo family, I can't tell you how grateful I am for your advocacy. The Piccolo fund research saved my life." He discussed how the cure rate for the form of leukemia that he got back in 2012, had a cure rate of 90 percent, up from merely 50 percent thirty years ago. Pagano added, "I certainly know and understand the significance of this award, and everything that comes with it. It's all about representing the decal on the helmet, and the name on the jersey. He turned to Hicks and explained that in the 2012 draft, the Colts picked below New Orleans, and stated, "had you slipped three spots, you would have been a Colt."
"I watched the movie last night. Hicks thanked the McCaskey family for bringing him to Chicago and making him a part of the organization, and Ryan Pace for drafting him in New Orleans (where he served as player personnel director). This award means so much. You can be nothing better than a team guy, a coach once told me. You go nowhere without your teammates. No matter how strong, how big, and how fast you are, you can't beat eleven guys by yourself. I understood that with a team, it takes everybody coming together. One of the biggest differences in our season this year was how we were able to come together and be teammates, and care for one another. It's so important."
After the presentation, both players met with the media. Hicks talked about how he holds the history of the organization in high regard. "I've met I don't know how many of the Chicago Bear greats. I met Dan Hampton, Richard Dent, Mike Singletary. In other organizations that I've been in, I never had that opportunity." He also explained why he voted for Roquan, "From his his first day, he came here with the right mind set. He was focused. He was hard working. He had respect for the were here before him. The way he approached the game as a young man, You don't see that all the time when guys come into the league."
Smith noted, "Last year at this time, I was more focused on 'where I was going to go' and now I can focus on my craft." He also commented on coach Pagano. "He's a great guy. Great sense of humor. I love his character. He comes to work every day with a positive attitude." His goals for this season. "Try to pick up where we left off last year. It didn't end the way we would have liked it. Put pour heads down and keep working to not make this year a disappointment like last year."
Roquan Smith and Akiem Hicks feature prominently in our new book, The 2018 Chicago Bears – Return to Respectability, available exclusively on Amazon Kindle. Get it for a limited time for only 99 cents, a Dan Hampton friendly price.