A couple weeks ago I had the pleasure of meeting fellow Highland Park, IL resident Billy Corgan (The Smashing Pumpkins of course) at the Ravinia Wine Shop during a grand opening wine tasting..(I partook, Billy did not). The owners there will be managing his brand new Chinese Tea Shop Madame Zuzus which will open this Spring.  We got to talking and I asked if  he would like to be on Vinyl Schminyl Radio for a special Radio Hour.  He agreed to sit down and talk classic rock passionately with me who, by the way, is also pretty passionate about that topic. Well one topic turned into another and before you knew it, A Very Special Vinyl Schminyl Radio With Billy Corgan was made. This is one of the most intelligent interviews I have been a part of and I really think you will enjoy his take on a few of the artists who shaped his musical perspective. I felt like I was talking to a friend by the time it ended.
It posts at midnight tonight (CST)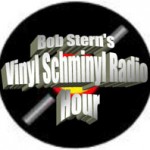 and if you click on the logo here it will take you to my website where you click on his picture and it will instantly play for you.  Happy listening.