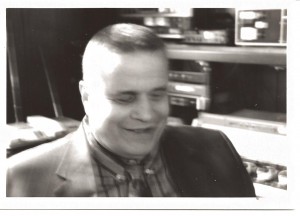 "I'm done, goodbye, go to hell!" screamed Bob Greenberg once, when he famously stormed out of our studio in the middle of a radio show.
Bob always fought for what he believed in, even if it took theatrics sometimes to make his point. Sadly, he just lost his last battle yesterday, a cancer victim at age 68.
Greenberg first came to my attention when we needed a source for our network feeds. It funny to think that now, in the age of digital streaming that we had to put an ISDN machine at his house and another one in the radio studio to enable our audio feeds.
But forget about that for a minute. Bob, you see, has been blind since pretty much birth. He lost his sight at just nine months of age. Yet, I was amazed when I visited his studio. Greenberg maintained a full working studio, complete with a radio board. All the labels were in braille, and he volume position marked with little gray blobs of silicon, or some kind of resin.
This is a photocopy of his picture from a Tribune article on Bob. The paper copy of the original is long gone.  Original Tribune article from November, 1993 (pdf format)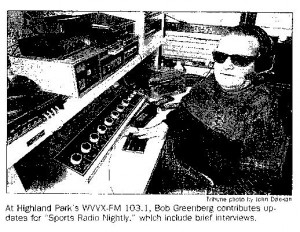 I remember one evening watching Bob at work, listening to baseball audio on his satellite dish. Bob would seamlessly switch between three different baseball games searching for highlights. When a home run or big play would occur, off went Bob, reaching out for one of his reel-to-reel or DAT machines keeping the game feed. Pushing buttons, turning knobs. Shortly thereafter, he was on the phone to one of stations or networks, feeding the highlight over the ISDN line.
Eventually, Greenberg would be cut out as the middleman by the networks themselves, and coupled with the growth of the Internet, it made his services pretty much irrelevant by the mid-2000's. Bob had been in the sports business since his teens, seen a lot of changes, and he usually adapted as best he could. This time was perhaps more than he could handle. That coupled with a bad fall at home, and he somehow ended up in a nursing home down in Virginia.
Bob taught me a lot about sports radio, from interviewing techniques, to his no apologies style of questioning. He even showed me how important it is to carry spare cables and batteries. For that alone, I am forever indebted to him.  His sense of hearing was so good, no matter how I tried to disguise my voice on the phone, it was always, "Hey Steve, I know it's you. How-are-ya?"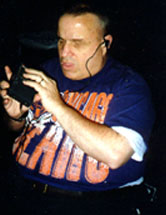 Greenberg's grasp of the game was built upon on how the play by play announcer calls the action, a lot of his questions seemed to be about how did the player "feel" mentally about wins and losses. Sometimes Bob wasn't always sure how close he was to the interviewee, and occasionally shouted out questions when the subject was a few inches away. After Super Bowl 28 in Atlanta, he yelled out to Bills Linebacker Darryl Talley, asking him how it felt to lose his fourth Super Bowl. As related to me by Dave Rusch, Talley shouts back, "You don't have to yell, slick!" Then he spun around, seeing Bob for the first time, and as the realization sets in that he can't see, pauses, and calmly says, "Well, if you must know, it's a bitch!"
Rusch was at the game with Bob escorting him around. He was what I used to refer as the "seeing-eye person," various individuals who would pick Bob up at his house and take him to the different sporting events we would cover. I went with him to plenty of Bears, Cubs, and Bulls games.
The best and worst sporting experience of my life occurred when he took me to Super Bowl XXIX in Miami. It wasn't much of a game, because when Steve young hit Jerry Rice on the second play from scrimmage, the 49'ers took an early lead on the Chargers, and went on to destroy them 49- 26 in a game that was never close.  I made sure that Bob knew exactly how far he was from San Francisco coach George Siefert.
My odyssey began mid morning when I drove up from Lauderdale to pick him up at his parents' house in Palm Beach. It ended when I got home at 4 AM. Bob is a big guy. He probably weighed around 300 pounds in those days, and he had a slight limp from an old leg injury. He also carried with him two equipment bags full of cables, cassettes, and his portable recorders. The next day my arm was black and blue in the area where Greenberg was holding on as I led him around. That was my first Super Bowl, and I didn't know what I know now about the game day setup. So we ended up parking in a far away lot and I had to schlep the gentle giant back and forth. It must have been quite a sight. The Dolphin's stadium has these giant ramps to go up and down from the sitting area to the post game interview area. That seemed like climbing Mt Everest. Me the Sherpa, and Bob my climber.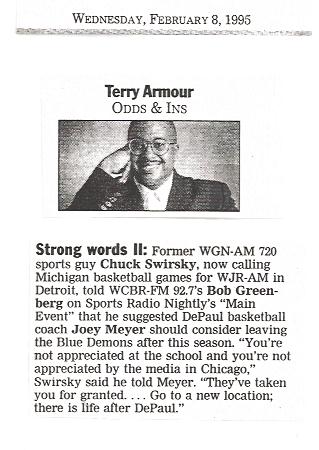 Every sports reporter in town has amusing stories to tell about Bob. He was a regular at the sports venues in town long before our company came into the picture.
Greenberg was never short on opinions and he expressed them frequently on our Bears-Packers show, even if it wasn't about pro football. One of his targets was Ron Turner, who was one of the Bears assistant coaches at the time. Bob finally got his wish, only to see Tuner get the head coaching job at his beloved University of Illinois. He also loved to vent by singing improvised lyrics to the Bears' fight song aimed squarely at his targets.
In recent years he'd been doing a weekly radio show via phone over at Zecom Radio. Unfortunately, he was pretty much bedridden, but that never seemed to dampen his enthusiasm for all things sports. I'm sure he would carry on a diatribe with any willing or unwilling participants in the nursing home where he whiled away the hours.
"I'm done, goodbye, go to hell!"
I'll miss you, big guy.
Soon I'll post some vintage Bob audio from the old shows.