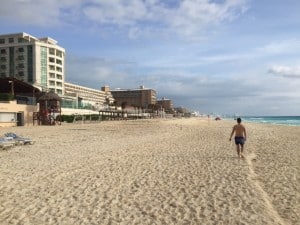 A short five day vacation trip to Mexico is just what I needed to seek refuge from another Chicago winter. Who knew it would be a mild March, although truth be told, I did manage to miss a small snowstorm.
A beer procured from an airport hawker at near US prices was ideal for the slightly warm, balmy day, and the seventy-five minute ride south from the Cancun airport. The mostly modern highway leads past a number of resorts, with names like Excellence Riviera, Iberostar, Xcaret, and Xel-ha. Interspersed among the mangrove and a few small towns, including Puerto Aventuras, Akumal (where the development of the Rivera Maya began in the 1960's,) and Playa del Carmen, were quite a few familiar names like Walmart, Office Depot, and the ubiquitous Starbucks. One of our guides would tell us jokingly, I assumed, that all the American franchises were thriving in Mexico, except one…TacoBell.
Finally, we reached the outskirts of Tulum. It is a municipality of just under twenty thousand people, located near the archeological ruins of the same name.
That is where The Grand Bahia Príncipe is located. It is one of several resorts dotting the Caribbean as the coast winds southward toward the ruins. This huge property is comprised of four resorts in one. Akumal, a 758-room, high end all-suite resort, that was off limits to us; the Sian Ka'an, a contemporary, modern resort, for adults only, featuring a golf course and 420 rooms; Coba, the largest on the property, with 1080 rooms, and a more family oriented place; and lastly Tulum, named after the nearby ruins, and where we were staying in one of its 960 rooms. We also would be enjoying its three pools, five restaurant, and seven bars. Add to that, the additional six pools and thirteen restaurants and bars we could theoretically go to, and there is no shortage of things to do. Read the rest of the story at Sentinel Travel.com