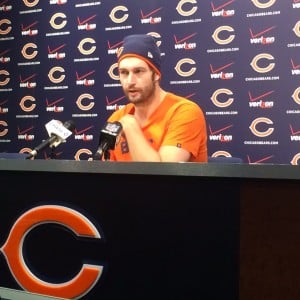 Cutler may have been under fire for the rock star size of his contract, and his less than stellar on field performance, but there are several million good reasons to keep him on the Bears roster, at least through 2016.
The big hero in this deal is Cutler's agent who negotiated this colossal deal.  Don't blame Jay, he just signed on the dotted line, but Phil Emery, the soon to be unemployed Chicago GM.
However, when you examine things more closely, it may work out in the long run, if not for Chicago, then some other team.
My information is based on data culled from Spotrac.com.
Cutler's average annual salary on the $127 million deal is roughly  $18 million per year. The big hit for the Bears is in 2014-2015 with $38 in guaranteed money.
Let's compare Cutler's deal with two other marquee NFL QB's, one younger, one older, who have similar average salaries.
Thirty-four year old Tony Romo's deal runs out a year before Jay's. His average salary and guaranteed money ($54 million) are similar to Cutler's deal.  The difference, however, is that the Cowboys are on the hook for a larger salary cap hit, should he no longer be on the roster in in 2015, 2016, or 2017.
Cutler is guaranteed $16 million in 2016, but should the team cut or trade him, they are only on the hook for $3 million. In 2017, that amount drops to $2 million.
Twenty-six year old Matthew Stafford of the Lions becomes an unrestricted free agent after the 2017 season.  How much of a raise will he get above the $22.5 million he's scheduled to earn in the last two years of his deal? Especially if he leads his team back to the playoffs a few more times.
Tony Romo was the top rated QB in the NFL, for any starter. Stafford's 85.7 rating is actually below Cutler's 88.6.
The biggest problem Cutler faced in 2014 was having one of the league's worst defenses preventing him from running a balanced offense, thus increasing his turnovers. The mediocre offensive line which allowed him to be sacked 38 times didn't help matters either.
It's easy to criticize Jay because he's not a charmer in front of the cameras.  Cutler will never be a pitch man like Peyton Manning or Russell Wilson.  That's just not his style.  But from what we in the media hear, his teammates see a side of Jay the public does not.
The solution.  Draft a quarterback in the second or third round in 2015 or 2016, and nurture them along. Rebuild that defense that was absolutely pitiful in 2014. Then, re-think things in 2017.  Conversely, when the average salaries of QB's in the NFL start exceeding $25 or $30 million, the deal might not seem so bad after all.