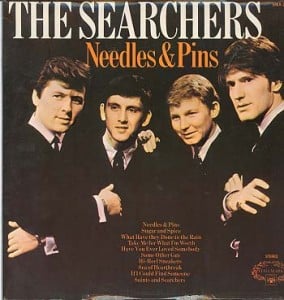 1964, The Searchers were at number one on the singles chart with the Sonny Bono song "Needles And Pins."
1965, The Who play the Corn Exchange at Chelmsford and then an all-night rave at the Club Noreik in Tottenham. Opening for The Who at the all-night rave is The Muleskinners featuring future Small Faces' keyboardist, Ian McLagan.
1966, Big Brother & the Holding Company play their first gig on the second day of the Trips Festival at San Francisco's Longshoreman's Hall, this show did not include Janis Joplin, who would join the band in June of that year.
1966, The Who appeared at Coop Hall in Warrington, Cheshire, England.
1967, Pink Floyd spent the first of three days recording the Syd Barrett songs "Arnold Layne" and "Candy And A Current Bun" at Sound Techniques Studios, Chelsea, London with Joe Boyd as producer. According to Roger Waters, "Arnold Layne" was based on a real person, a transvestite whose primary pastime was stealing women's clothes and undergarments from washing lines in Cambridge.
1968, John Mayall & the Bluesbreakers performed at the Grande Ballroom in Detroit, Michigan
1969, Working at Apple studios in London, The Beatles, with Billy Preston on keyboards, recorded ten takes of a new song called "Get Back." Alan Parsons makes his debut as the Beatles' engineer.
1969, Led Zeppelin played at Boston Tea Party in Boston, Massachusetts.
1969, Jimi Hendrix performed at the Sportpalast, Berlin, Germany.
1970, Yes appeared at King's Hall, Stoke, England.
1971, Steel Mill played their final show when they appeared at the Upstage Club, Asbury Park, New Jersey. Singer Bruce Springsteen formed new bands during the rest of the year, known under such names as the Bruce Springsteen Jam, Dr. Zoom and the Sonic Boom, and finally the Bruce Springsteen Band.
1971, George Harrison became the first solo Beatle to have a number one when "My Sweet Lord"' went to the top of the singles charts. The song from his All Things Must Pass album stayed at number one for five weeks.
1971, Dawn started a three week run at number one on the singles chart with "Knock Three Times," the group's first chart topper.
1972, Pink Floyd performed Dark Side of The Moon at Guildhall, in Southampton, England. The entire show was filmed by the BBC in an effort to test some new equipment.  However, the film was not supposed to be broadcast, and the tapes were wiped clean.
1974, Bob Dylan and The Band played at the Mid-South Coliseum, Memphis, Tennessee.
1975, Hawkwind appeared at Kings Hall, Derby, England.
1976, The Sex Pistols played at Watford College, Watford, England. The first of 65 gigs for band in 1976.
1976, Roxy Music performed at Konserthaus in Stockholm., Sweden.
1977, Patti Smith broke her vertebrae when she fell off the stage at a gig in Tampa, Florida.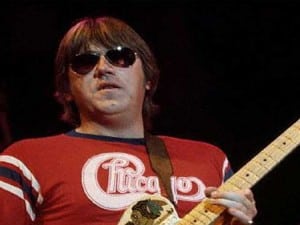 1978, Terry Kath, guitarist with Chicago accidentally shot himself dead while cleaning what he believed was an unloaded gun. Kath's last words were "Don't worry it's not loaded" as he put the gun to his head and pulled the trigger. The guitarist and singer was killed instantly.
1979, Rush played at the Carrier Dome, Syracuse, New York.
1980, Marvin Gaye appeared at the Liverpool Philharmonic, England, with Edwin Starr as support.
1982, The Allman Brothers Band appeared on Saturday Night Live, playing "Midnight Rider," "Southbound," and "I'm Leaving." It was to be their last performance until 1986.
1984, Blue Oyster Cult performed at Sporthalle, Augsburg, Germany.
1986, Ray Charles was inducted into the Rock and Roll Hall of Fame at the first induction dinner, held in New York City.
1988, Nirvana recorded a 10-song demo with Seattle producer Jack Endino. Sub Pop records boss Jonathan Poneman hears the tape and offers to put out a Nirvana single.
1990, Allen Collins guitarist from Lynyrd Skynyrd died of pneumonia after being ill for several months. Collins who was one of the founding members also co-wrote most of the band's songs, including "Free Bird," with late front man Ronnie Van Zant. He survived a plane crash in 1977 that killed two other band members. Collins was behind the wheel in a car accident in 1986 that killed his girlfriend and left him paralyzed from the waist down. He later pleaded no contest to vehicular manslaughter as well as driving under the influence of alcohol.
1994, Rage Against The Machine headlined the Rock For Choice benefit at The Palladium, Hollywood, California. Also appearing were Screaming Trees, Eddie Vedder, Mary's Danish, 7 Year Bitch, and Green Apple Quick Step.
2000, Santana started a three week run at number one on the US album chart with Supernatural, the album which went on to win eight Grammy awards spent a total of nine weeks atop the charts during this year.
Born on this day: Django Reinhardt, jazz guitarist (1910); Anita Pointer,  The Pointer Sisters (1948); Danny Federici, keyboard, E Street Band (1950); Pat Simmons, guitarist,  The Doobie Brothers (1950); Robin Zander, vocals, Cheap Trick (1953); Earl Falconer, bassist, UB40 (1959); and Nick Harmer, bass guitarist,  Death Cab for Cutie (1974)
Get more rock history at Yeah Baby Tunes, This Day in Music.