The venerable old performance venue did not suddenly start to host a sporting event. The band Tennis, a Colorado-based indie-pop duo performed a well-received show on Friday night in support of their new album Pollen.
Alaina Moore, whose high-pitched vocals reminded me of Bjork or Kate Bush told the enthusiastic crowd that the last time they played the Riv was in 2013 as a support act for the band Haim.
Having listened to much of their catalog in advance of the show, I was worried that it would be pop and fluff.
Fortunately I was wrong. The addition of backing drums, bass/keyboards, as well as Moore's songwriting and life-partner Patrick Riley on keys and guitar was a rocking performance that had the crowd cheering and chanting through the entire show.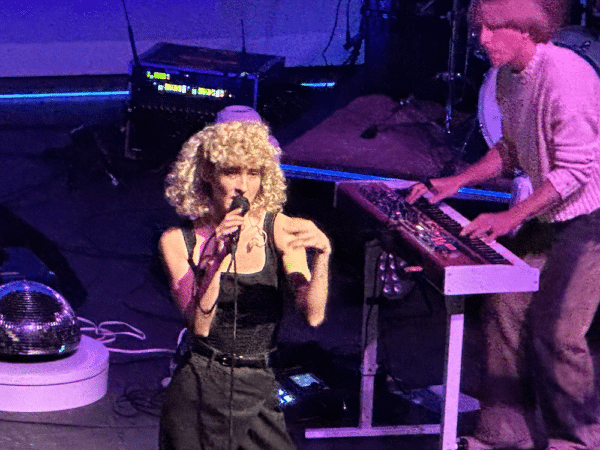 Riley was the more introverted of the two, leaving Moore to regale the crowd with a few stories including the inspiration for the song "Hotel Valet". As she explained it, "In high school, he was working the graveyard shift as a parking valet at a hotel, and I was working mornings at the only Jewish deli in Denver. I served him breakfast one morning. Several years later he saw me at college and remembered."
That fortuitous second meeting in Boulder in 2008 led to a collaboration that continues to this day. The first singles "South Carolina," "Baltimore," and "Marathon" debuted in 2010 and went viral. Cape Dory and Young & Old were released in 2011 and 2012 respectively and landed Tennis their first television gigs. They signed with the Communion label in 2014 and followed it with another album Ritual in Repeat before forming their own label for Yours Conditionally (2017) and Swimmer (2020).
Their nineteen song set in Chicago drew heavily from Pollen, but also included material from the previous four albums along with We Can Die Happy, a 2017 EP release.
You can hear the difference between the fine studio recordings and their energetic live performances with the YouTube video and Spotify playlist below.
Kate Bollinger, another singer-songwriter and her band opened the show. Bollinger had to overcome some equipment issues, but deftly sidestepped that to deliver on her indie-rock melodies.
Here's my playlist of songs being played on the 2023 tour.