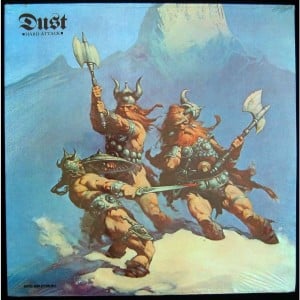 Today's rock'n'roll history lesson takes us to Brooklyn, New York in the early 1970s. 4 young men – Richie Wise (guitar), Kenny Aaronson (bass), Marc Bell (drums) and Kenny Kerner (lyrics, producer/manager) are set to take the rock world by storm with their hard rock, power-trio sound, influenced by Cream, Hendrix, Zeppelin and Deep Purple. Signed to Kama Sutra records by Neil Bogart (if that name sounds familiar, cool your jets for a few sentences), they recorded their first album, the eponymous Dust at Bell Studios in New York City, with Aaronson and Kerner producing. They quickly garnered a large following in the Midwest, gaining airplay, as well as opening for many of the top names of the day. They soon returned to Bell Studios and recorded their second album, Hard Attack, notable for supposedly being the first album with Frank Frazetta artwork (predating Molly Hatchet by several years). However, while touring in support of Hard Attack they soon noticed that they were playing the same venues, and weren't really going anywhere, and dissolved the band at the end of 1972. End of story? Wrong.
Wise and Kerner were enlisted by Bogart to produce some of the other acts on the Kama Sutra and Buddah labels. When Bogart started Casablanca records in 1973 and signed a band out of New York City called KISS, Wise and Kerner got the call to produce their first 2 albums.
Aaronson, due to his mad bass chops (on full display in today's song, and evidenced by his being named "Bassist of the Year" by Rolling Stone in 1988), joined Stories and played on their #1 smash "Brother Louie". He then went on to a long and very successful journeyman career, playing with Bob Dylan, Hall and Oates, Billy Idol, Joan Jett, Edgar Winter, and Foghat, to name just a few.
As for drummer Marc Bell, after playing on the seminal Richard Hell album Blank Generation, he changed his stage name to Marky Ramone, and the rest is history.