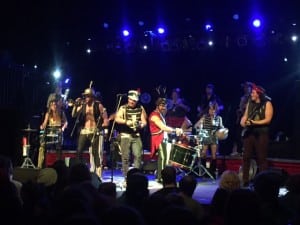 Just got back from a quick trip to Fort Collins, Colorado, from visiting my son. During a quick three day adventure, we crammed in a lot of fun stuff in a very short period of time.
This will be a story about music, I promise, but that comes later.
My evening arrival didn't allow for much other than a late meal, gassing up the car, and part of a movie. Also, there was some necessary unpacking, and getting ski gear ready for day on the slopes.
The next morning, we set out at 6:30 AM for the two hour drive towards Denver, narrowly bypassing the city, for the westward climb to the mountains. There was quite a bit more traffic than usual at that relatively early hour. Then it dawned on us. The Broncos Super Bowl victory parade was going to be held that morning. Fortunately, it only cost us an extra twenty minutes, perhaps.
I had pre-arranged ski rentals at Christy Sports in Breckenridge to get the 20% discount. It was located at the far end of Main Street. If you've never seen it, Breckenridge is a cool little town, with lots for stores, restaurants, bars, surrounded by condos and houses. All that, and a major ski resort.
Getting the ski equipment was quick, the staff was very helpful, and we were on our way to the mountain. Weekday parking was only five bucks, and shortly thereafter, we were on the gondola headed up the hill. My son has a season "Epic" pass, which got a "reduced" lift ticket of $95.  Wow, has that become an expensive pastime. Breckenridge is a great place to ski, featuring 187 trails served by 34 ski lifts.  As in intermediate skier who doesn't go flying down the slopes anymore, the plethora of blue runs was just what I needed to get my ski legs back, having not been on a mountain in almost a year.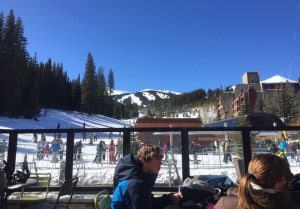 The weather could not have been better, with temps in the high thirties, getting to the low forties by afternoon. It might have been a bit cool on the lifts, but the clear azure skies, and nicely groomed trails made it feel quite pleasant. Most people out on the sitting areas at the restaurants eschewed their jackets all together. It was also Mardi Gras, so a number of the ski patrons wore costumers or outfits of green, purple,and gold. The trees along the main lifts were adorned with beads cast off by the riders.
When I took breaks, my son helped himself to some more challenging black diamond runs. By pacing myself, I was able to stay out on the slopes until nearly three o'clock, by which time the snow began to get icy. A little slipping and sliding was enough to convince us to call it a day.
Upon returning the rental equipment, we noticed there was a Breckenridge Brew Pub (600 South Main St.) quite close to where Christy's was, so apres ski consisted of beer and appetizers. I chose the double IPA which was excellent.
We arrived back in Ft. Collins, tired but happy, about twelve and a half hours after setting out that morning. We capped the evening off with a trip to the gym next door, for a wonderful soak in the jacuzzi. I was determined to ward off as much muscle soreness as possible.
I'm not usually one to turn in early, but by ten thirty that evening, I was falling asleep, exhausted, looking forward to a flat land adventure.
My son was taking a class at Colorado State, so the next morning, while he attended, I had the bigger, better breakfast at a nearby restaurant – Rainbow (@rainbowcafe)  I just saw it as I was driving away, so instead of a Starbucks, I chanced a visit. It turned out to be a very friendly place, with a nice staff, and my scrambled eggs were cooked to perfection. I didn't even have to ask. This family owned eatery specializes in vegetarian fare, but don't worry, they have food for carnivores as well.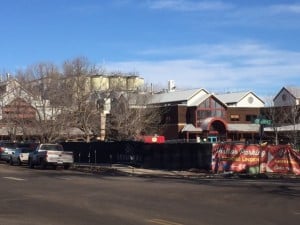 The time waiting gave me an opportunity to research a mechanic for my son's car (my old 2002 Camry) which hadn't had anything but oil changes since last year. Summers Auto Repair had a lot of positive reviews on Yelp, and were willing to take the car, provided we could leave it there all afternoon. That worked fine, as we took an Uber to the New Belgium Brewery, for a tour we booked in advance. The one and a half hour tour began with a stop at the tap room for a walking around beer. I picked up a twelve ounce glass of Rampant IPA for three dollars, which I need not have done. Plenty of beer was dispensed along the way. The young man who led the tour, was energetic, funny, and knowledgeable. It was cool to see the various aspects of a working brewery.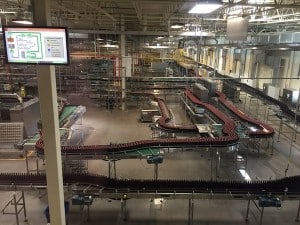 Following the tour, we had another beer at the tap room. I had the Blackberry Barley Wine Ale. We got an update on the car, and then made the short, ten minute trek, hiking the half mile to Old Town, the commercial center of Fort Collins. For a change of pace, I had some Bison meat loaf at Austin's American Grill. We found another brew pub, Equinox Brewery, before settling at a tea shop to wash away the beer haze, and wait until the car was ready.
The evening's entertainment consisted of live music at the Aggie Theatre, back in Old Town. A great triple bill featured Diego's Umbrella, a San Francisco group, who describe their sound as "gypsy rock." I would describe them as a mix between Los Lobos' Latin rock and a klezmer band. They were touring in support of their fourth album, Proper Cowboy, a first time collaboration with San Francisco producers The Rondo Brothers (MC Lars, Foster the People), as well as a new EP. Highlights included a cover of Sonny and Cher's "A Cowboy's Work Is Never Done," and "You'll Never Take Us Down," a powerful jam.
Twitter: @diegosumbrella
The New Mastersounds, a quartet from Leeds in the UK, whose guitarist and singer Eddie Roberts now lives in the states, and brings his old mates stateside for short US tours. The band brings a very funky rock sound channeling Funkadelic and the best in rock jazz, such as Herbie Hancock fueled by keyboardist Joe Tatton and outstanding bassist Pete Shand.
Twitter: @NewMastersounds
Lastly, at midnight the March Fourth took the stage. They could best be described as part Dirty Dozen Brass Band and part Cirque de Soleil. A seven piece horn section combined with a mini drum line, and a small cadre of entertainers doing stilt walking, vaudeville dances and gymnastics.
Twitter: @M4MB
I got to chat with members of Diego's Umbrella. They gave me their newest CD, and I met the manager for the New Mastersounds. Look for some of their songs to beer added to Acid Flashback Radio.
We would have loved to stay longer, but after forty five minutes of March Fourth, we had to call it a night.The combination of a long day sampling beer, the three plus hours of outstanding music, and an early airport necessitated a 12:45 self-imposed curfew.
The next day, it was back to my home base in Chicago.  In case anyone is tempted to bring back some of Colorado's finest, be forewarned. There were TSA agents with dogs sniffing all the passengers as they snaked through the security lines at the Denver Airport.