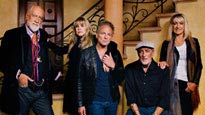 That might seem like a strange title for a blog post, until you follow my illogic.
I just got an email from Ticketmaster (or Ticketbastard as my friend Otis likes to say) touting the upcoming "On With The Show" tour stop at the United Center in October.
So what's the big news?  Christine McVie has rejoined the band, having ostensibly quit the group in 1998, save for a rare appearance last year in London.  What changed? McVie told Rolling Stone, "About two years ago. I started to think, 'What am I doing? I really miss that camaraderie with those four people. I miss everything about it.' I missed the music, to be able to create again. I couldn't imagine doing it with anyone besides Fleetwood Mac. I knew that they were my musical family."
So now, the band that famously wrote some of their best music from their various personal dramas is back on the road again. Not everyone realizes that Stevie Nicks and Lindsey Buckingham only came aboard in 1975.  The band originated in the English blues scene in 1967 when guitarist Peter Green left John Mayhall's Bluesbreakers to form his own band, and enticed Mick Fleetwood and John McVie to participate.  Mick and John are the only members who've been with the band during its entire existence.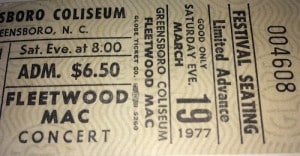 I had the great fortune to see the group in March of 1977. My friends and I all went to see the band on the strength of the band's Fleetwood Mac, released in 1975, also dubbed their "White Album." It's radio singles were "Over My Head," "Rhiannon," and "Say You Love Me." All were top 20 charters in the US.  Meanwhile,  Rumors had just been released the previous month, and only "Go Your Own Way" had been issued as a single in advance of the album. It's breakout single "Dreams," a future number one, was released a week after this show, and wouldn't top the charts until mid June. I'll bet most of the people in the audience had no clue what was to be that evening.
Most of the concerts I've seen in my lifetime, and there have been a lot, are just hazy, happy memories.  But there was a moment in that show that is as clear in my mind as the night it happened.  About midway through the performance, a single spotlight shone on Lindsey Buckingham. The rest of the stage was dark. He began to sing "Never Going Back Again," accompanied by just his acoustic guitar. It was mesmerizing. Other album tracks that most of us likely heard for the first time were "The Chain," "You Make Lovin' Fun," "Oh Daddy," and of course "Dreams." After the show, just about everyone I know ran out to get the album, or the 8-track. We weren't alone.  It sold 45 million albums and spent an astounding thirty-one weeks at number one.
There was something magical that night, because we loved the material from the Fleetwood Mac album, and the new stuff from Rumors simply blew us away. Yet, when I see the prices being asked for the 2014 version of Fleetwood Mac, I have to ask myself.  Are they really worth it?  My $6.50 ticket would be worth about $26 in 2014 dollars.  The ticket range is sixty bucks for the crappiest seats in the house and $203 for the top tickets.  As you know, they have even more creative ways to scalp your wallet with VIP packages including photo ops and meet and greet. I don't even want to know how much those cost. So add in expensive parking and beverages and merchandise, and you will easily pay five or ten times what I did.
So I'd have to ask myself, are they worth 5 or 10 times what we paid in 1977?  Are they going to be 5 or 10 times better in concert?
Who knows if they'll still be talking to each other by then.
Don't get me wrong. I wish them all the success in the world.  Some of their contemporaries aren't even around anymore to extort these kinds of dollars from the fans.
I'll just wait for the DVD, or better still, YouTube videos. In addition, I've heard a bootleg of a show from two months later in the '77 tour, and it reinforces everything I remember about the show and the tour.
Fleetwood Mac – Greensboro Coliseum, March 19, 1977 (courtesy setlist.fm)
Say You Love Me
Station Man
Believe Me
The Chain
Dreams
Rhiannon
Why
Never Going Back Again
Landslide
Oh Daddy
Gold Dust Woman
Over My Head
You Make Loving Fun
I'm So Afraid
Go Your Own Way
World Turning
Hypnotized