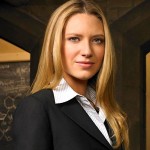 Those of you like me who are waiting with huge anticipation of the return of the absolute best program on TV, get your fix tonight.
Fringe, the JJ Abrams produced sci-fi mind bender returns to the Fox network tonight.
Michael Ausiello, formerly of Entertainment Weekly has his own TV blog now, and today has an interview with executive producers Jeff Pinkner and J.H. Wyman to discuss tonight's January debut.
TV Guide has an interview with Joshua Jackson (Peter Bishop.)