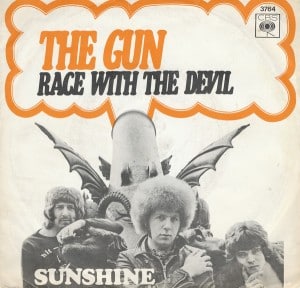 Those of you who read these ramblings on a regular basis will remember that a couple of weeks ago we gave this song a shout-out when we covered the Brothers Gurvitz and their band Three Man Army. The first band said brothers were known for was called The Knack (no relation to the "My Sharona" guys) and featured, briefly, Jon Anderson of Yes fame. In 1967 they changed their name to The Gun, and pared down to a trio. The band name was shortened to Gun on the cover of their eponymous first album, which features this song. Released in October of 1968, the song reached the Top 10 in the U.K.
The album is famed not only for this song, but for the fact that it was the first album cover done by the legendary Roger Dean, who of course went on to great fame for his album covers for, most notably, Yes, but also Uriah Heep, Badger, Osibisa, and on and on and on.
With its blistering guitar lick and galloping rhythm section, this is one of the earliest "hard rock" songs to hit the charts. While the intro (strongly reminiscent of "America" by The Nice) and crazed laughter irrefutably date the song to the Sixties, the song itself remains timeless. While the Brothers Gurvitz have faded into rock'n'roll history, this song has lived on, being covered by Judas Priest, Black Oak Arkansas, Girlschool, and Church of Misery.