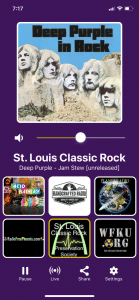 FOR IMMEDIATE RELEASE
Lake Bluff, IL: June 25, 2018
SRN Broadcasting is pleased to announce the release of version 1.01 of the InternetFM mobile app.
The InternetFM app provides streaming audio from 23 carefully selected streaming rock stations in the US and Canada. The app gives the listeners a clean easy to use platform, devoid of any annoying pop up ads.  Any of the 18 presets can be configured to carry any of the two dozen station. There are no on screen ads of any kind.  Most of the stations stream commercial-free to the listeners. They also use very large song libraries, unheard of on a typical terrestrial rock station.
As of today, the InternetFM app is available for download from the Google Play and Apple App Store.  It is designed for easy, in-car use, allowing to seamlessly switch between stations. The app also has several color and button configurations for the listener.
Stations include SRN's flagship Acid Flashback, plus Handcrafted, Planet Radio, St. Louis Classic Rock, Radio Free Phoenix, WFKU, Zecom's The Choice, The Oasis, Radio Paradise, Radio Rocco, and specialty stations like All Dixie Rock, Beatles & Friends, Pyschedelicized, and The Radio Colorful.
An simple how-to guide can be found at: internetfm.com/app/
About SRN Broadcasting – founded in 1993, the company produces radio programming, provides sports reporting, manages four streaming radio stations, the new mobile app, and supplies web content at InternetFM.com