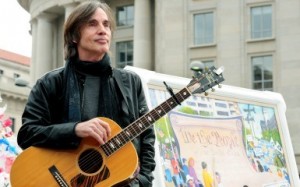 by Richard Lyman
… The Blumenthal Performing Arts Center is arguably Charlotte's premier music venue. It hosts the Charlotte Symphony, the Opera, Broadway shows, the ballet and most of the big name rock acts who come thru town who care about good acoustics and only need to sell two thousand tickets.
In theory, it was a great place for Jackson Browne to open his 2012 tour. It's just too bad he did not put any real time into preparation before opening night and, for all intents and purposes, it was a rehearsal.
Sara Watkins and her brother opened for Browne. We had seen her before at Merle Fest with her old band, Nickel Creek, and heard her often on Prairie Home Companion. Her beautiful whisper-like soprano voice was spoiled by Quasimodo at the mixing board as he had her mike turned up way too loud and occasionally she sounded like a diamond tipped drill bit cutting through glass. She did mostly her own material but covered Michael Nesmith's "Different Drum," a catchy tune that Linda Rondstadt and the Stone Poneys made famous. I can still recall an old flame quoting the lyrics to that song when she dumped me. Sometimes it is hard to tell when someone is doing you a huge favor even though it might cause some pain at the time.
She did her 45 minutes and then the lights went up so folks could head back to the lobby and get more drinks. The Blumenthal used to not allow drinks in the Theater, but they figured out how much money they could be making and how sedate the crowds are, and that prohibition soon passed.
Jackson Browne promptly came out with Sara's drummer and an extraordinarily tall guy playing electric guitar. Browne sat down and then realized he did not have his headset, so every body left the stage while he got his earpiece wired up. He apologized several times and then launched into "Fountain of Sorrow." His voice still sounds like it did thirty years ago and, from a distance and clean shaven, he looks just like the cover of his first album. The years have been good to him.
He moved to the piano to play "a new song" that he had written about the earthquake in Haiti. Our church has a relationship with a church in Bayonnaise and we have sent many groups down there in the rebuilding effort. Haiti has to be one of the poorest places in the western hemisphere and some Haitians were reduced to eating dirt at times after the earthquake. Jackson's lyrics, while poignant, were marred by his forgetting the chords and having to start over. Twice. He messed up at the same place both times. While he appeared sober and did not pull a Gordon Lightfoot, it was nonetheless embarrassing. He got some sarcastic applause when he finally got thru the song on his third attempt. His only comment was, "so much for opening night."
Browne has a huge repertoire of upbeat, hard driving songs, but he didn't play any of them. He just rambled thru a lot of little known songs of broken romance and bad relationships. He admitted he had not prepared a setlist and he was just picking songs out from memory, just to mess with his band (both of them). This prompted lots of callouts from the crowd and it soon became comical. One guy blurted out "Free Bird" and the electric guitarist started into the bridge while Jackson started singing in yet again some minor key. "if I leave here tomorrow, would you still remember me…… yeah, we can probably work that up by the end of the tour." Then he started into another obscure song. The only song I could identify was, "These Days," and I've always enjoyed Gregg Allman's version as Gregg certainly has lived that song. But, I can only take so much tear in my beer, minor key whining, and both Janet and I started to get bored. It was starting to feel like an NFL pre-season game.
He brought with him two racks of acoustic guitars, at least fifteen, and changed guitars for every song. Then he re-tuned each guitar while noodling around and mumbling. Sometimes he would spend several minutes fiddling with a guitar only to replace it in the rack and pick another. At one point he mentioned walking by that NASCAR Museum and, knowing his audience, asked how many people had visited it. He chuckled at the silent response. Janet commented she never saw his electric guitar player re-tune, he was always ready to go. Browne is known as a perfectionist and reportedly drove Don Henley and Glenn Frye crazy when he would practice the same song thirty times in a row when they all lived in the same apartment building in L.A. Sure, it's nice that he was always in tune, but he could have done all that at the sound check, assuming he had one.
Two hours into the show, he looked over at his road manager and the guy was giving him the hurry up signal. Jackson took that cue to invite some friend of his from the crowd to come up on stage and play a tune on piano. The guy looked like a cross between Sam Kinison and Leon Russell and we had actually seen him eating out on the patio of the Capital Grille before the concert. We thought he looked a little out of place at the Capital Grille and he was likely asked to eat on the patio given he was barefoot and his shirt was open. The guy literally rolled onto the stage and Browne introduced him as some "great LA songwriter" who now lived in Charlotte. The dude promptly took the mike and urged people to visit the NASCAR Hall of Fame and that his friend Jackson was actually a closet NASCAR fan. Awkward.
The guy finished his song and Janet whispered to me, "who was that groper?" Browne, or his road manager, then figured out that he had not played much of anything folks came to hear and went into Running on Empty. Finally. Then he was done. His encore was Take it Easy, but it was too late to salvage the show.
Don't get me wrong. I like Jackson Browne's music and I like what he stands for. But he needs to put away some of that Kalifornia, "I'm too cool to prepare" bullshit, and act more like a professional musician. He could have simply done the entire "Running on Empty" album, one of the greatest "live albums" of all time, and folks would have been delighted with just that. Instead, he basically sold tickets to a rehearsal.