One of a kind cannabis-friendly concert rocks.
Ask the fans on any Grateful Dead forum who their favorite Dead cover band is. The responses will include Dark Star Orchestra, Uncle John's Band, Better Off Dead, and the one name that is always mentioned–Joe Russo's Almost Dead.
JRAD hails from Brooklyn, New York and was started by Furthur and Benevento/Russo Duo drummer Joe Russo. The band played their first show on January 26, 2013 at the Brooklyn Bowl. In addition to drummer Russo, the band also includes Ween's bassist Dave Dreiwitz, keyboardist Marco Benevento, Scott Metzger on guitar and vocals, and Tom Hamilton of Brothers Past, Ghost Light, and American Babies on guitar and vocals.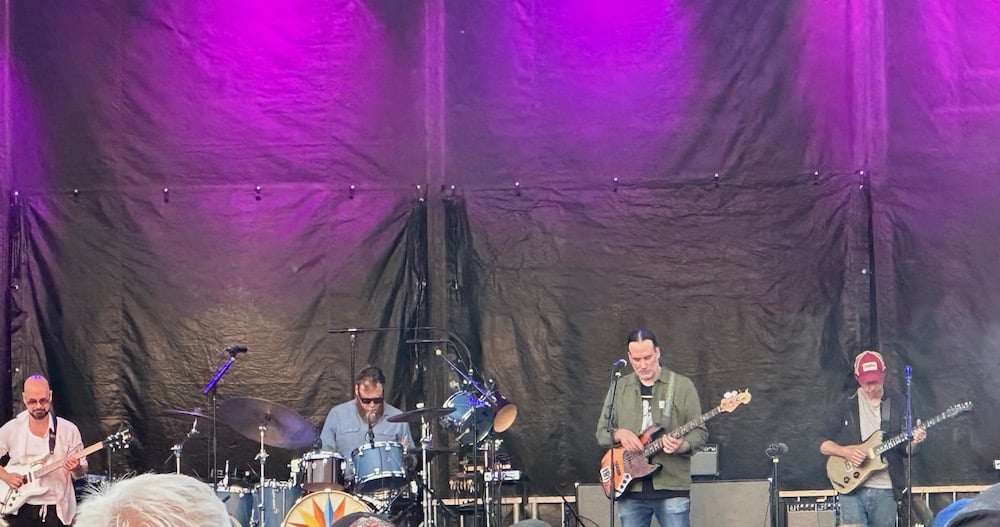 The band's stock in trade are energetic performances featuring extensive improvisation, taking the Grateful Dead's trademark style and raising it to the next level, stacking layers upon layers, extending songs to lengths that Jerry Garcia would be proud of. The first hour-and-fifteen minute set comprised only five songs of mind-bending jams that the crowd loved.
JRAD was the headliner on the second of two nights at The Miracle in Mundelein, a bold experiment featuring two days of music spanning multiple genres, with a mix of hip-hop, jam, reggae and funk artists. Sunday was jam band day with Karina Rykman, a power trio playing jam, funk. and indie-pop with Rykman on bass and vocals, Adam November on guitar/looper/effects and Chris Corsico on drums.
The festivities took place on a large, empty lot adjacent to Rise dispensary in the Chicago suburb of Mundelein. This unique event was limited to attendees over twenty-one and included amenities such as a dab bar, cannabis beverage garden, joint rolling, chilled bongs, and more. Patrons could BYOB or purchase consumables on site. Local police were present but didn't have much to do as the crowd was very well behaved.
"We were blown away by the response, turnout, and overall success of The Miracle in our inaugural year! Being presented with a challenge and opportunity to show the world we could do something progressive and forward facing, with the highest standard of safety protocol, the Humans of The Miracle showed up and aced the test.  The worlds of cannabis and music have long been intertwined, yes, and fans as they always have, are gonna do what they're gonna do either way. However, the exercise and social experiment of altering normal protocols in this lane to support the culture in a strictly 21+ adult format, seemed to work really well. We are excited to build upon the incredible momentum going into year two and evolve the show from this year's learnings." 

– Michael Berg, founder of Sacred Rose.
The under-card also included Lettuce, a funk ensemble from Boston that has been on the jam scene since 1992. Its members are guitarist Adam "Shmeeans" Smirnoff, Nigel Hall (keyboards, Hammond B-3 organ, piano, vocals), Adam Deitch (drums/percussion), Erick "Jesus" Coomes (bass), Ryan Zoidis (saxophone) and Eric "Benny" Bloom (trumpet). Their uptempo set showcased jazz-fusion and funk influences.
Fans had plenty of room to spread out and enjoy the festivities. Ken, an attendee from Wheeling, Illinois enjoyed the laid back atmosphere. "It was a fantastic show with an incredibly great vibe with help provided by the dispensary making it a really great high time," he commented, echoing the popular track from the Grateful Dead album Workingman's Dead.
Set list – Joe Russo's Almost Dead – The Miracle in Mundelein – September 10, 2023
Set One: Intro/Jam > Eyes of the Word > Dancin' In The Streets > New Minglewood Blues, He's Gone > Truckin'
Set Two: Jack Straw > Foolish Heart > Music Never Stopped, Mississippi Half-Step > I Need A Miracle > Terrapin Station
Here's a video of "I Need A Miracle.
---
The vision of Miracle and Sacred Rose is one in which cannabis is sold and consumed at concerts and festivals just like alcohol. As more states relax their restrictions on cannabis and public opinion shifts in favor of legalization, the Miracle in Mundelein appears as less of a one-off event and more aligned with the future.
For fans who want to hear another fantastic show, check out JRAD's performane from Brooklyn in November 2019.