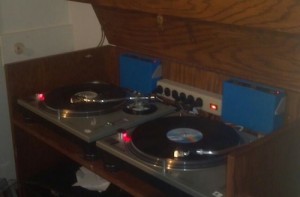 There's a  good reason that most, if not all radio stations are automated these days. It truly takes a lot of work to pull albums and CD's, cue them up on the turntables or CD players, and seamlessly transition between songs.
That's how we used to do it in the old days.  And before compact discs, it was all on turntables or reel to reel tape.
These days all the songs are loaded into a computer, and software enables the jocks to choose their songs.  No more scouring the shelves of the music library for cd's or albums.  The downside of that is you are limited by what has been input into the computer, and not every song on a given album makes it onto the hard drive.
Most of the time on our Acid Flashback station automation software picks songs based on predefined criteria.  Every day I look at the play list and make tweaks to the order.  The result is what you'd hear on any given day.
However, there's nothing like the excitement of live radio, and that's just what we did this afternoon, pausing the automation system, and turning on the microphones.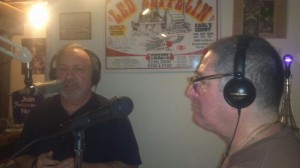 I was joined in the studio by Bob Stern, host of Vinyl Schminyl radio, Eric Berman, our music director and author the "Song of the Day" column on this site, and Marty Zivin, who runs the two Zecom radio stations. For two and a half hours we picked and played a wide variety of music from the classic rock of Yes and Led Zeppelin to indie acts like Apples in Stereo, eels, and TuNe-YaRds.  We started with some Irish music in homage to St. Patrick's day and then delved right into our standard fare.
Not unlike the free form radio of yesteryear, we cracked the mics every few songs to back sell the music and provide some back ground on the artist, song, or album.  Below is our set list from this adventure in radio.
Acid Flashback radio 3/17/12
The Pogues – Dirty Old Town
Paul McCartney – Give Ireland Back to the Irish
Irish Rovers – The Unicorn
The Clancy Brothers – Whistling Gypsy
Jeff Healy – While My Guitar Gently Weeps
George Harrison – The Guitar Can't Keep From Crying
Youngbloods – Darkness, Darkness
Beach Boys – The Warmth of the Sun
Todd Rundgren – I Saw the Light
Laura Nyro – And When I Die
Enoch Light Orchestra – Bond Street
Allman Brothers – Not My Cross to Bear
Captain Beefheart – Bat Chain Pull
King Crimson – Elephant Talk
Yes – Seen All Good People
Brewer & Shipley – One Toke Over the Line
John Hiatt – Trudy and Dave
Neil Young – Are You Ready for the Country?
Jerry Garcia Band – Sitting in Limbo
Eels – Trouble with Dreams
Smashing Pumpkins – 1979
Magnetic Fields – Andrew in Drag
Apples in Stereo – Same Old Drag
ELO – So Fine/Livin' Thing
Led Zeppelin – The Crunge
Dire Straits – Skateaway
Jeff Beck – Beck's Bolero
Blue Oyster Cult – Don't Fear the Reaper (Live)