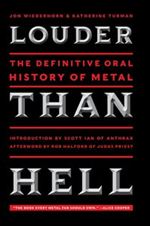 Heavy Metal is one of those musical genres with very little middle ground – you either love it or you hate it. Personally, I was a fan of the progenitors of the style, but didn't really pay much attention once the Metallicas and Megadeths of the world took over. Regardless of my personal preferences however, I found this book to be of the "can't put it down" variety, as Wiederhorn and Turman do a terrific job of capturing the essence of metal via hundreds of interviews with the dramatis personae of the movement.
From the early chapters with my heroes, Iggy Pop, Alice Cooper, Black Sabbath, and the irrepressible Lemmy Kilmister (God rest his soul), to the latter-day Slipknots and Disturbeds of the world, the authors keep your attention with the expected and unexpected, as they dive deeply into the heart and soul of the music with commentary from the players themselves. As one would expect, there is lots of drug use, sex with groupies, and general mayhem. But what sets this apart from the usual rock'n'roll journalism is the delving into the extremes unique to this milieu. Some of those who embraced the lifestyle (Alice Cooper, Dave Mustaine) have embraced Christianity, and now heavy metal is just an act to make money. Others took it further by placing rotting animal flesh onstage so as to embrace the smell of death. Some just died from way too many drugs, and then there's the purveyors of Norwegian death metal, who took the lyrics literally and engaged in burning churches, suicide, and even murder.
Reading this book, one learns that some of the most famous purveyors of this music are also the most disliked, as Dave Mustaine, Fred Durst, and Phil Anselmo are revealed as hard to embrace human beings, who have made many enemies. Regardless of your musical tastes, this is a worthwhile read, providing those of us who have never delved into metal with a primer on the motivation behind the music as well as a historical account thereof.