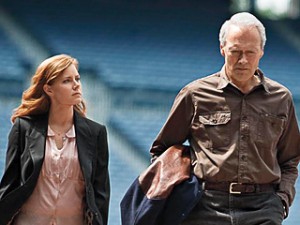 It never ceases to amaze me how big time entertainers can be so polished when they have a script to work with and look so goofy without one. Ever notice how silly some of the biggest names in Hollywood are when they appear on the various talk shows?
A case in point is Clint Eastwood. Now granted the normal aging process has done a number on his orating skills but the whole idea of talking to the empty chair at the Republican National Convention was pretty embarrassing,  and mainly because he did the whole thing off the cuff.
However with a script underneath him in his latest movie, "Trouble With The Curve, Eastwood once again shines on the big screen.
"Trouble With The Curve" is a fairly formulaic flick that combines sentimentality with (thank you) Baseball. And after watching a season full of futility from the Cubs and now watching the White Sox gag down the stretch, it was refreshing to see Baseball from a different view point.
Eastwood stars as an aging scout who is nearing the end of a long distinguished career. He's also having trouble with his eyes that has a blind spot in them that prevents him from performing his job.
Enter his daughter, Amy Adams, who plays a spitfire attorney who is up for a major promotion but also is torn with helping her father overcome his disability. Adams also has abandonment issues with her Father that are illustrated more and more as the movie goes on.
Eastwood is sent on assignment to scout a hot shot high school prospect in North Carolina and Adams drops in unexpectedly.
Also appearing on the scene is Justin Timberlake, who plays a former big league player whose arm gave out years ago, and is now also scouting,  but for another major league team. Eastwood signed Timberlake years back and has a soft spot for him, and eventually Adams and he hook up and well, you can guess the rest of that situation.
If you're into predicting movies like I am, this one is really easy to figure out from the first twenty minutes to the closing credits. But, in spite of that the direction is flawless and the acting is just right.
As Eastwood gets older he has played one gruff character after another and he's not all that different then he was in "Gran Torino." Yet, he sounds like a baseball scout and has the jargon down pat.
I work with a lot of baseball scouts and I'm confident that they will be happy with how their profession is depicted in this movie.
The crack of the bat, the pounding sound of ball hitting glove, and just seeing the different parks including where the Atlanta Braves play, added to the ambiance of the movie.
But it was the first rate acting of all the major characters and the easy to like script that makes this movie very enjoyable.
My rating, a home run – three and a half stars for "Trouble With The Curve"