Football is an ecosystem. There are the hunters and there are the hunted. In college football, some schools are the hunters while everyone else is… well, you know the rest.
The 1-2 Northwestern Wildcats had a chance to disrupt that ecosystem Saturday night against the number 14-ranked Michigan Wolverines. But alas, the Big Ten's power balance remained un-teetered. Michigan scored 20 unanswered points to take a 20-17 victory. The Wolverines rolled into Evanston with a star-studded cast and a defense full of players that will soon be seen on Sundays.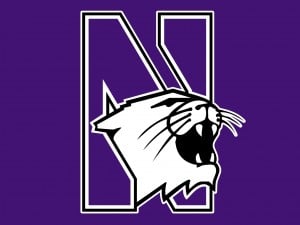 Coach Pat Fitzgerald said it perfectly postgame. "They're really good. Have you seen Michigan's defense play? They're really good."
Northwestern looked up to the task though. They came out of the gates firing on all cylinders, forcing a three-and-out on Michigan's opening drive. They scored on the next possession, taking advantage of an aggressive Michigan defense with quick, short throws. A 36-yard screen pass to J.J. Jefferson set them up at the one, and Thorson stuffed it in on a quarterback sneak. Nailing slant after slant, it seemed as though a "death by a thousand paper cuts" was about to unfold.
The Cats got a field goal after forcing another three-and-out, then worked their way 52 yards down the field for another touchdown to go ahead 17-0. The tired references to David and Goliath were getting locked and loaded as Michigan trotted into the locker room down 17-7. The Wildcats were not only beating Michigan; they were bullying them and had the Wolverines on their heels.
Coach Jim Harbaugh must have lit a fire in that locker room, because Michigan flipped that script in a hurry.
The second half saw Michigan's defense take shape of what it is: A unit with NFL talent at every level. Northwestern struggled to move the ball and mustered only one drive of more than five plays, a six-play, 29-yard drive that lasted the final 34 seconds of the game.
The Wolverines got into a rhythm on the ground, and running back Karan Higdon finished with 115 yards and two touchdowns. Those scores combined with two field goals were enough to seal a 20-17 Michigan victory.
"The past few weeks that's been the story," quarterback Clayton Thorson said postgame. "We're up, and then the second half, we don't finish the job."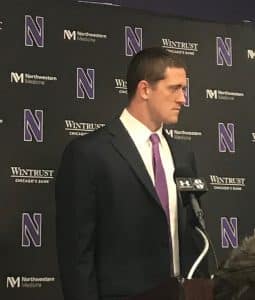 The Michigan defense made life miserable for Thorson in the second half. The quick slants that worked in the first half suddenly lost effectiveness. Drops killed the Cats' rhythm and they found themselves often off-schedule. The Wolverines clamped down and didn't allow a single Northwestern third-down conversion. Thorson was sacked four times on third down in the second half.
"Number one, going into the game, we knew they had an outstanding front," Fitzgerald said. "We knew we were going to have to play very efficiently, we were going to get the ball out of the quarterback's hands… We set ourselves kind of behind the chains in third-and-long situations. We kind of played right into the mouse-trap."
Short offensive drives hurt a Wildcats' defense that had performed quite well. Shea Patterson, dubbed 'the next Johnny Manziel'by some, looked off and was forced to make plays with his feet. The Wildcats kept him in check and forced Michigan to have to win on the ground. Northwestern bent at times but rarely broke by allowing only one Michigan touchdown in the second half, despite allowing 207 yards of offense.
Defensive end Joe Gaziano spoke on the challenges Patterson presents, saying, "It stresses the D-line for sure. We need to be more disciplined in our pass-rush lanes. It's a big emphasis for us, to be able to keep him inside the pocket and not let him get out and scramble."
Northwestern struggled to contain big plays in the opening few weeks, and Michigan posed a serious threat at continuing that with Patterson and Donovan Peoples-Jones on their offense. The Wildcats played a mostly clean game though, and Michigan had to earn nearly every yard gained.
"I think they made a lot of improvement over the last two weeks. It just didn't necessarily end up in the outcome of the scoreboard," Fitzgerald said.
The offense couldn't carry over its momentum to the second half, but sometimes that's just what happens when a team like Michigan, particularly their defense, comes into town.
Sometimes the Big Bad Wolf is just too big and too bad.
Twitter: @crbevins11 @radiomogul