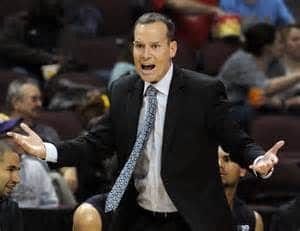 76 years ago Northwestern hosted the first ever tournament, but they are still the only major conference school that has never made it to the post season. The 2015-16 NCAA Men's Preseason poll came out and the Big Ten has 6 teams that make the top 25… but Northwestern is not one of them… yet.
In Coach Chris Collins first year, NU was tied for 10th in the Big Ten with a 6 – 12 record in conference play and had a 15 – 17 record overall last year. NU's season had two "signature" wins as the Cats were able to beat Iowa and Michigan at home; both games took extra time for NU to pull the upset.
Northwestern returns five of its main contributors from last year, led by senior SG Tre Demps and sophomore PG Bryant McIntosh, the Cats look to build off of their young nucleus while hoping to get a career year from their emotional leader Demps.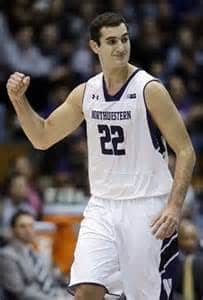 Another large cog on the NU basketball wheel is 7 foot Romanian center Alex Olah, who was an honorable mention All-Big Ten selection of the league's media members. Olah averaged just over 29 minutes per game while accumulating 11.7 ppg and ranked 2nd in the Big Ten with an average of 1.8 blocked per game and 5th with 6.9 rebounds per game.
Coach Collins will look to 2nd year wing Vic Law to establish another scoring option for the Wildcats while providing some defensive prowess at the forward position. Law started 19 games during his freshman year and averaged 7.0 ppg, 4.8 rpg and shot 35.5% from 3-point range. Law was named the Big Ten Freshman of the Week on Feb. 23 for back to back performances in wins over Minnesota and Penn State.
Collins' safety glove Sanjay Lumpkin returns for his last year as a Wildcat as he is the Swiss Army knife for this team. Whether it is defense or an offensive spark, Lumpkin is a reliable player who will be asked to play many roles this year. Lumpkin started NU's first exhibition game against Quincy but expect him to be moved in and out of starting line up with Law.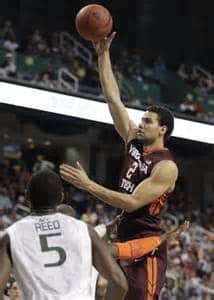 Another young star in the making that had a nice freshman season is Scottie Lindsay. The Fenwick High School product was not as heralded as Vic Law as a recruit, but can fill a stat sheet every once in a while when called upon. Lindsay brings another 3 point threat as he shot 35.4% last year and averaged over 40% from the field.
The Wildcats added some depth and experience up front in 6' 10" senior Joey van Zegeren who transferred from Virginia Tech. Zegeren played in 13 games last season and was leading the Hokies in rebounding at 5.3 per game and 3rd in scoring at 9.8 points per game before getting suspended for violating team policy. He will be responsible for alleviating some of the pressure from Olah throughout the season.
Coach Collins was hired to build a program that would sustain a winning atmosphere for the foreseeable future. Collins has recruited well and is looking to take his team to the NCAA tournament for the first time in school history but it will take a couple of big wins to create a resume that can get Northwestern basketball to the promise land.
---
@WesEvans24