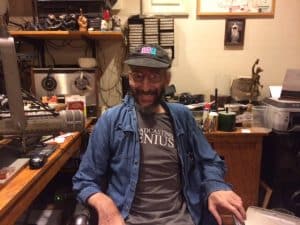 Marty Zivin would have been sixty-one on February 22nd, 2017.
A true pioneer of Internet radio, Marty launched The Choice, a Chicago-based rock station way back in 1997, a time when people were just discovering all the Internet had to offer.  Before Facebook, before Twitter, and even before YouTube, Zivin saw the potential this burgeoning media had to offer, and took his radio expertise online.
2003 saw the addition of another station – GEMZ, playing oldies.
Both stations took advantage of software that was created in 2001 to allow small independent stations like Marty's to sound no different than big market radio stations. This allowed for a very sophisticated sound on a minuscule budget.  The Choice and GEMZ featured large music libraries, along with original long form programs.
The future of the two stations was very much in doubt when Marty passed away after a 30-month battle with cancer. Even though I asked Marty on a few occasions what would happen, he seemed convinced that he could beat the cancer and continue with business as usual.  I pressed him a few times on GEMZ, because I felt the oldies format would be a nice complement to our rock station – Acid Flashback, which Marty himself selflessly helped me set up in late 2011.
When Marty took a turn for the worse in December 2016, those discussions ceased.   It was only after his passing that I found out he wanted me to keep the stations running. Needless to say, I am honored and humbled.
So, it is with great pleasure that SRN Broadcasting formally announces the re-launch of GEMZ and The Choice.
They can be heard on TuneIn.com, and soon will stream live from InternetFM.com as well. So, once again Zivin's slogan, "Quality Rock and Roll, From Chicago to the World" gets a second helping.
Link to The Choice on TuneIn
Link to GEMZ on TuneIn
In order to make this possible, we had to move the stations into the SRN offices, after carefully deconstructing the maze of wiring and networking created almost two decades ago. At least four different computers were involved in the Zecom stations' broadcasting setup and delivery. Since this takeover came as a pleasant surprise, there was no prior discussion of the layout, and more significantly, Marty failed to leave behind a road map and/or detailed instructions.  Fortunately, I was able to enlist the aid of a very talented computer consultant to achieve what looked almost impossible at the start.  That's why it's taken nearly a month to pull this off.  And we want to continue to stream both stations, as long as we can.
Therefore, we are asking all of Marty's friends and fans to help us offset these costs, and continue going forward.  I might set up a GoFund me or KickStarter, but these entities charge a fee, in addition to the cut that PayPal takes.  Instead, we've set up a special donation button through PayPal to maximize our efficiency.  100% of ALL monies donated (after PayPal fees) will go to recoup the relocation costs ($480) and operating expenses going forward (about $20-$50 a month depending on listenership.)  The remainder of the cost will hopefully accrue from the economy of scale by operating under the umbrella of the InternetFM.com radio network.  I've also set up a unique email for questions or comments –  zecom [at] internetFM [dot] com
Special thanks to Sharon Ross and Evan Zivin for their assistance, and more importantly, their patience.  My dear friend, Marty, you have achieved immortality.
Steven Leventhal
SRN Broadcasting
Lake Bluff, IL
@radiomogul