Day One | Day Two | Day Three | Day Four/Five/Six
Day One
I should have known this wouldn't be an ordinary trip when I showed up at the airport and checked my seat assignment – 27B. The dreaded middle seat. Of course, with a free/no charge/gratis ticket I shouldn't have expected much.
My complimentary ticket was made possible by my generosity (and greed) over spring break when I "volunteered" to be bumped on the return home.
With those freebies come a few restrictions, like mid-week travel, and a year to use my four earned round trippers. I won't name names, but the carrier starts with "A" and ends with "Tran." No point going to Florida this time of year. Instead, it was off to Las Vegas to check out the 2012 World Series of Poker.
It didn't look like a full flight at the gate, but as passengers kept shuffling in, with their oversized carry-on's, the possibilities of shifting to a window grew about as dim as the Cubs' chances of turning their season around. Then two very rotund middle-aged ladies approached my aisle. That scenario is only exceeded by having a three hundred pound "bubba" with a keg for a belly and bad body odor as your seat mate. Fortunately, the women took a seat in the aisle across, and two guys about my size ended up on either side of me.
Nope, the second worst-case seat scenario occurred, when a young woman carrying and infant and trailing a toddler ended up behind me. The little boy reached to tug at my sleeve about four or five times, and her other kid was seated in her mommy's lap, and tussled and turned half the flight, kicking the back of my seat.
To add insult to injury, there was yet another couple, with the proverbial screaming baby a row behind the fidgety kids.
Noise cancelling headphones and my Rolling Stones playlist did their best, but not completely to dampen the day care scenario at 40,000 feet. I kept repeating the mantra, "It's a free ticket…It's just a free ticket."
Why am I spending so much of this first column about a plane trip, and not my arrival in the city of Lost Wages? Well, the combination of the above, and perhaps a bad deli sandwich forced me to spend the rest of the afternoon hugging porcelain. The only gaming I saw were the slot machines that run rampant at the Vegas airport.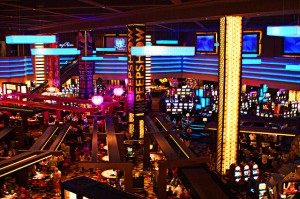 One nice thing about Planet Hollywood, my hotel of choice in Sin City, is that you check in on a level below the casino, and are not forced to walk past the one-armed bandits and blackjack tables to get to your room.
After sleeping off my ills, I awoke in time to catch the fourth quarter of the NBA Finals game one. Kevin Durant and Russell Westbrook put on quite a show, with Westbrook missing a triple double by two rebounds.
Hardly re-energized, but very hungry, I went in search for some "mild" food for my first meal in ten hours.
Even at nearly one in the morning, there were more than a dozen tables occupied in the hotel's coffee shop. A smoothie, a six-dollar baked potato, and some grilled vegetables did the trick.
I took the long, circuitous walk back to the elevators. Even at that late hour, on a weeknight, plenty of blackjack tables and slots machines were occupied.
Lastly, I ventured into the poker room, where more than half of the tables were in use. The manager informed me that they were all $1-$2 no limit. Seeing that most of them had players with large stacks of five-dollar chips, my better instincts told me to keep going. Instead, I'm crafting this update at 2 AM Vegas time, and I'll regroup in the morning to head over to the Rio, to begin my real adventure, which is to cover, and hopefully play in a World Series of Poker event.