It is an understatement to say that Chicago Bears running back and kick returner Tarik Cohen has a chip on his shoulder.
Despite excelling in both football and track & field, Cohen's size hampered his ability to land a college scholarship. Only one school, North Carolina A&T, offered him an opportunity to play college football.
Not only did excel there, he finished as the Mid-Eastern Athletic Conference's all-time rushing leader with 5619 yards, and set the the single-season touchdown record with 19, while also tying the school record for the single-season rushing touchdowns record with 18. He holds several other school and conference records. That led to Cohen winning the prestigious Deacon Jones Trophy, given to the most outstanding all-around collegiate football player of the year, among teams from Historically Black Colleges and Universities. "I feel like they rewarded me for choosing them. They helped me grow into the player that I am," he states about his time at A&T.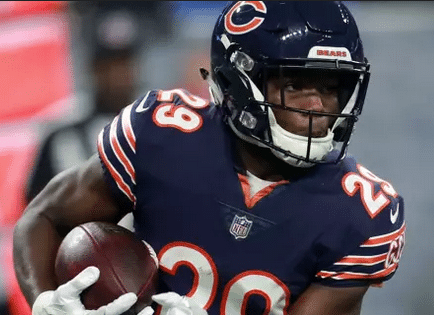 The Bears selected Cohen in the fourth round, 119th overall, of the 2017 NFL Draft. He played in all sixteen games, teaming up with Jordan Howard, and ran for 370 yards, while also catching 53 passes for 353 yards. Tarik scored four touchdowns, two on the ground, one on a pass, and also notched a punt return for a TD. Most notably, he threw a 21-yard touchdown pass to Zach Miller in an October game against Baltimore.
You always have the dream of making it to the NFL, no matter what school you go to.

-Tarik Cohen
The diminutive Cohen stands all of five foot six inches. He barely tips the scales at 180 pounds. However, he uses his speed and agility to elude linebackers, which is why he's been so effective as a pass receiver. In post game or weekday interviews, he flashes a 100-watt smile and gold capped teeth, as well as plenty of glittery bling. He's affable, congenial, and doesn't hesitate to speak to the media.
One of the more remarkable things about his agility is on full display in a YouTube video of him catching footballs while doing a back flip.

When asked about how he learned about life in the NFL, Cohen admits, "You get guidance from the other players on the team, who have been in the league for a couple of years now. That's mainly what I did last year. You look to the guys who've been there before, and the staff on the team."
Cohen gave his mid-season perspective in a media interview. "I feel like we did OK. We think we did better than some people thought we were going to do. But we haven't lived up to our own expectations." What were those expectations? "To be more consistent," he says. "To finish some of those games that we could have finished. Where we were in position to win."
2018 was another solid year for Cohen. He increased his rushing totals to 444 yards and three TD's. He more than doubled his receiving yards to 725 and scored five touchdowns, plus threw another TD pass. Tarik led the league in punt return yards, which resulted in being named to the 2019 Pro Bowl.
Off the field, Cohen likes to play video games, "To relieve the stress," he notes. NFL 2K or Call of Duty are his games of choice. "I have to get away from football from time to time. I talk to my teammates from back in college. They help me relax." Cohen is also a fan of AMC'sThe Walking Dead, based on his Twitter posts.
He enjoys social media and says that Twitter is his favorite method to communicate with the fans. "People say congratulations on the good games that I have. They tell me that they're fans and they are going to get my jersey. Things of that nature." He will also take to Twitter to defend teammates like Mitch Trubisky. "He is like my brother on the team, so I'm going to protect him."
Tarik was asked about winning the 2018 NFC North title and responded, "It means a lot. What we went through last year, not winning any division games, then we came from the bottom, and we finally got to the top now."
Cohen has a marketing advisor and an agent to take care of his business affairs. "They help me out with some things, like getting commercials and appearances and signings. I enjoy it a lot. I enjoy making money."
At least he's honest.