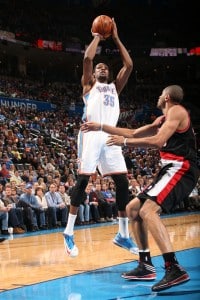 The rest of the NBA must look back on it fondly. A peaceful memory of the way things were. A time, just a few short years ago, when Kevin Durant hadn't turned. A time when he was still a mild-mannered star who, despite his immense talent, looked happy just to be in the NBA playing with his friends. Unfortunately, the rest of the league must wake from their daydream to the nightmarish reality that is Kevin Durant in 2014. A Kevin Durant that is no longer satisfied being second-billed to LeBron James. A Kevin Durant who has a chip on his shoulder bigger than Richard Sherman's ego. A Kevin Durant who wants to destroy everyone in his path.
I first saw rumblings of Durant's new nickname on Twitter. After a career-long search, had the NBA universe finally found an apt moniker for one of its biggest stars? I was hesitant at first, unable to commit to the new identity without investigating if it truly fit. Slim Reaper. Undoubtedly catchy, but did it really apply? Then I watched highlights of Oklahoma City's victory over Portland, a game in which Durant took over the last three-plus minutes of the game to propel OKC to a comeback win. I was sold. It wasn't that Durant scored 11 points in the final 3:30. Rather, it was the way he did it. In those final minutes, Durant had the look of an assassin. He appeared enraged that Portland would have the audacity to think that they could stop him. He wanted the win, but he also wanted it in the most cold-blooded way possible. With the shot-clock winding down and a four point lead, Durant coolly pulled-up from three and buried an "F-you for not double teaming me" rainmaker to seal the victory. A cold-blooded assassin on the court, a perfect fit for a name like Slim Reaper.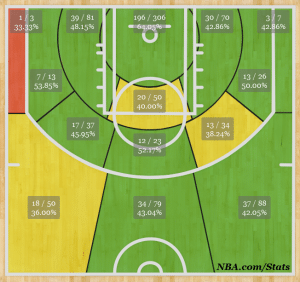 Durant's play this season has been spectacular, especially considering the time Russell Westbrook has missed due to injury. His scoring has been well-publicized and deservingly so. In the 16 games Durant has played since Westbrook was sidelined on December 27, KD has averaged 36.2 points per game, per NBA.com. Additionally, Durant has scored 30 or more points in his last ten games, including a career-high 54 against Golden State. For the season, Durant is leading the NBA in scoring at 31.1 points per game. He is doing so while also leading the league in true shooting percentage at 64.3%, per NBA.com. His incredible efficiency has propelled him to a Player Efficiency Rating of 31.0, also tops in the NBA, per ESPN.com.
Despite his ridiculous scoring numbers, I would argue that KD has been just as impressive in other areas of his game. He is becoming a very good defender, using his length and quickness to generate deflections while also averaging just under eight rebounds per game. Durant is not quite on the Paul George/LeBron James level of two-way superstars, but he has greatly improved his play on the defensive end over the last few season. Moreover, Durant is averaging a career-high 5.2 assists per game this season. Like his defense, Durant's playmaking ability's have improved exponentially throughout his career. His assist numbers are even more impressive when one considers that the over-sized corpse of Kendrick Perkins is clogging the paint and Derrick Fisher is getting minutes despite shuffling around with a walker.
The battle for MVP will be exciting to watch as we enter the second half of the season. As I look at the field, Durant's lava-hot play over the last month has moved him to the top spot on my list with LeBron and Paul George close behind. An MVP trophy will mark another step on Slim Reaper's quest to take over the NBA.
Follow me on Twitter: KevinMajor_SRN
Email: KevinMajorSRN@gmail.com